SFUSD Educators & Staff to Hold a "Spirited" Rally in Costume to Protest the Ongoing Payroll Nightmare
They are joining with students and families for a Halloween action outside the October 25 school board to call attention to the never-ending payroll and benefits issues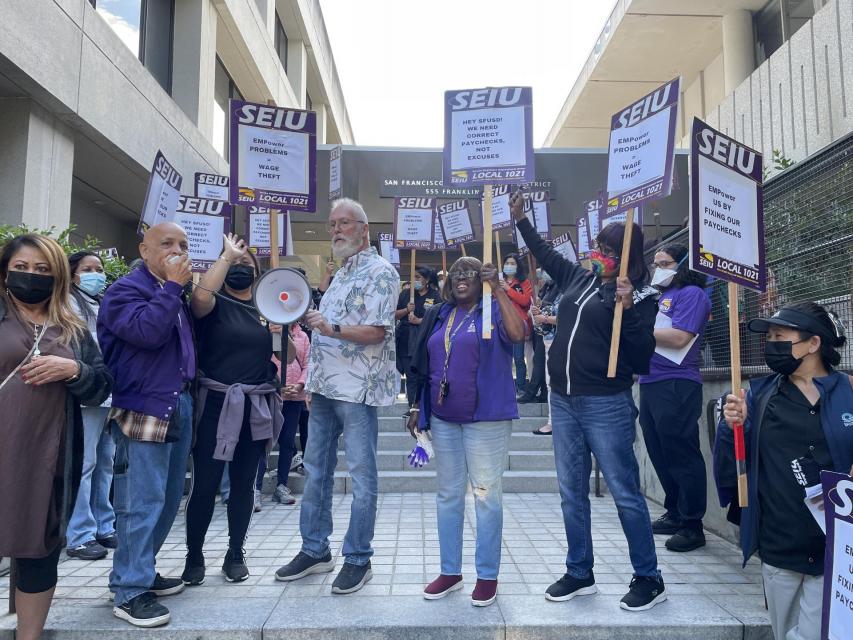 **MEDIA ADVISORY FOR TUES. 10/25**
Contact: Jennie Smith-Camejo, (510) 710-0201, jennie.smith-camejo@seiu1021.org
SAN FRANCISCO, CA— Heading into Halloween, SFUSD teachers, classified staff, students, and families will be putting on costumes and lining up to haunt the school board–after calling the public's attention to the 10-month nightmare that the EMPowerSF payroll system has caused at a spirited rally before the meeting.
At the October 11 school board meeting, the District released data showing 3,337 employees submitted help tickets in the past ten months. Numbers show how widespread the problem is and the need for a clear plan from the District to fix this broken system fast.
Who: San Francisco teachers, school staff, students, and families
What: Halloween-themed costumes, signs, chanting, etc.
When: Tue., Oct 25, 5:00 p.m.
Where: SFUSD Offices – 555 Franklin St.
"Halloween should be scary. Opening our paychecks shouldn't be," said Cassondra Curiel, UESF President. "We have people on maternity leave who can't access their benefits. We have new teachers who haven't received a correct paycheck since they started and are considering leaving the profession altogether. We need people's paychecks and benefits to be made whole, and we need the District to address the root causes so we can put this nightmare behind us and stay focused on the schools our students deserve."
"Chronic short-staffing after two years of the pandemic is making the job of classified staff harder than ever," said SEIU 1021 SFUSD Chapter President Rafael Picazo. "Yet instead of doing everything in their power to correct what amounts to wage theft to make sure that hardworking employees stay and that they can fill vacancies, including in the payroll department, they seem to prefer throwing millions more at sketchy consultants. We're coming out Tuesday to remind them that 10 months in, their staff are still waiting to wake from the nightmare the district has created."
###