SFUSD Classified Staff to Protest Persistent Payroll Problems at School Board
Ongoing unresolved problems with SFUSD's $16.5M+ payroll system EMPowerSF have pushed classified staff to the breaking point–and they intend to make sure the school board gets their message.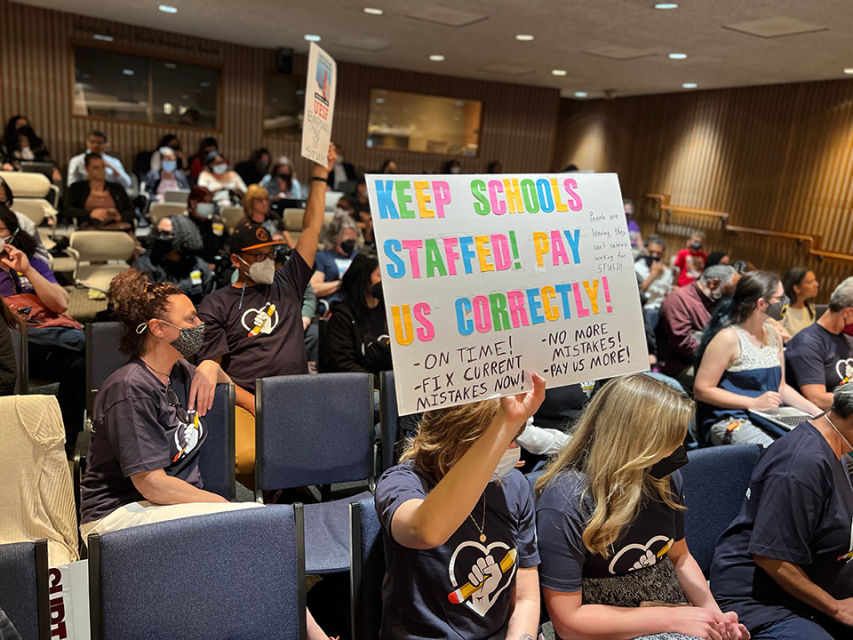 **MEDIA ADVISORY FOR TUES. 9/20**
Contact: Jennie Smith-Camejo, jennie.smith-camejo@seiu1021.org, (510) 710-0201
Keeping public schools running is never an easy job. But for San Francisco Unified School District's lowest-paid employees, who do everything from keep schools clean to make sure kids get hot meals every day to working with the district's most vulnerable special-needs students, short paychecks and improperly canceled benefits are making the job unnecessarily stressful–and harming their ability to keep their own families housed, fed, and healthy.
Paychecks missing entire days of pay. Retirement contributions deducted from paychecks but not deposited in accounts,, in some cases, forcing delays in retirement. Insurance premiums deducted from paychecks but not paid to the insurance companies, meaning inability to access policies or have claims processed. Premiums being deducted at twice the rate they should be. Incorrect vacation and sick leave accruals. The problems with San Francisco Unified School District's exceedingly expensive "new" EMPowerSF payroll system are legion and, by now, well-known: They have been going on since the system was sloppily rolled out at the beginning of this year. Yet over nine months later, many of the problems have still not been resolved, and new ones pop up with every pay period.
SFUSD classified staff have had enough – and they will be gathering outside the SFUSD Board of Education meeting to make their voices heard in the street before heading into the open session of the meeting to make sure the board hears them as well.
What: Protest outside SFUSD
When: Tuesday, Sept. 20, starting at 5:30pm
Where: SFUSD, 555 Franklin St.
Who: SFUSD classified staff
Visuals: SFUSD staff marching, chanting with signs
The problems are not just an inconvenience. In extreme cases, they make the difference between ability to access needed medical care or not. 20-year SFUSD paraprofessional Eddy Alarcon died of cancer recently following repeated problems accessing care and medications after his insurance was erroneously canceled while he was on medical leave.
"This district has thrown good money after bad – to the tune of $16.5 million now – on a flawed payroll system that has resulted in this district's lowest-paid employees being shortchanged over and over," said SEIU 1021 SFUSD Chapter President Rafael Picazo, who has worked for the district since 1984. "It contributed to the death of our coworker. The stress of having his insurance cut off and not being able to access the medication he needed after over 20 years of dedicating himself to this district's students caused the exact kind of stress you do not need when already battling cancer. We do not want to hear any more excuses or vague promises of fixing the system. We need to be made whole immediately."
At a time when the district is extremely short-staffed from custodians to teachers, it can ill afford to drive its employees away with these kinds of unforced errors and its failure to resolve them – particularly when most other districts in the area are also short-staffed and eager to hire the positions they are leaving. Yet despite its staffing problems and negative publicity related to its faulty payroll systems, the district so far has not shown the urgency needed.
"Would you stay in a job where your paychecks are short, where your retirement funds are being taken out of your paycheck but not put in your retirement account, where your insurance is being cut off because of technical issues, and all you can do about it is put a ticket in the system and cross your fingers?" said Picazo. "Those of us who are still here are here because we care about making sure this district's students get the education and stability they deserve after the past two years of turmoil. But no one can be expected to put up with these conditions this long, especially people who are already getting paid too little to live in the city they work in. Something's got to give."
###
SEIU Local 1021 represents nearly 60,000 employees in local governments, non-profit agencies, health care programs, and schools throughout Northern California, including seven private colleges and numerous community colleges. SEIU Local 1021 is a diverse, member-driven organization with members who work to make our cities, schools, colleges, counties, and special districts safe and healthy places to live and raise our families.