SFMTA Service Critical Workers Seek Safer Working Conditions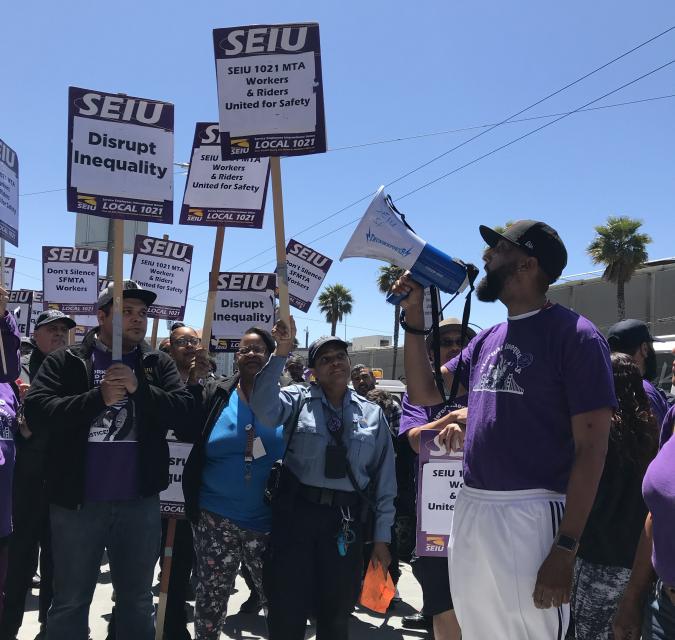 Following the ousting of the San Francisco Municipal Transit Agency's (SFMTA) director, hundreds of SFMTA workers protested in front of the embattled agency's headquarters to call on administrators and SF's Mayor Breed to fix issues and to select a candidate that comprehends frontline worker and rider concerns.
"Over the years, the demands on SFMTA/MUNI have increased with the boom of our city. But SFMTA/MUNI has yet to make the necessary investment in the people to meet the rising demands. In the end riders suffer. Working people suffer. People who rely on the system to get to work suffer," said Trevor Adams who works at SF Municipal Transportation Agency and is the Service Critical Chapter President at SEIU 1021.
At the protest, parking and traffic control officers and station agents spoke out about the rising assaults on workers, the increased need for more safety trainings, in addition to much-needed repairs to faulty equipment. SFMTA workers are currently in contract negotiations, where city negotiators have resisted some of these demands. Workers are also bargaining for fair wage increases that will enable SFMTA workers to keep up with the skyrocketing cost of living in the Bay Area.
"SFMTA/MUNi employees who provide services to this community can't afford to live here," continued Adams. "Some of us are living in cars, not seeing our families for days just to eke out a living. We hope our Mayor chooses someone who understands our frontline issues made worse by income inequality plaguing San Francisco."
In The News
KTVU at 10PM: SFMTA/ MUNI workers rally as transit agency prepares to find a director

SF EXAMINER: Parking control officers protest assaults on ticket-writers