SF Unified Schools Classified Staff Protest Short Staffing & Low Wages at School Board in Rally with Educators
Severe short staffing has SFUSD classified workers like custodians, nutrition service workers, and clerical staff carrying unsustainable workloads. Low wages, poor working conditions, and ongoing payroll problems underlie the crisis.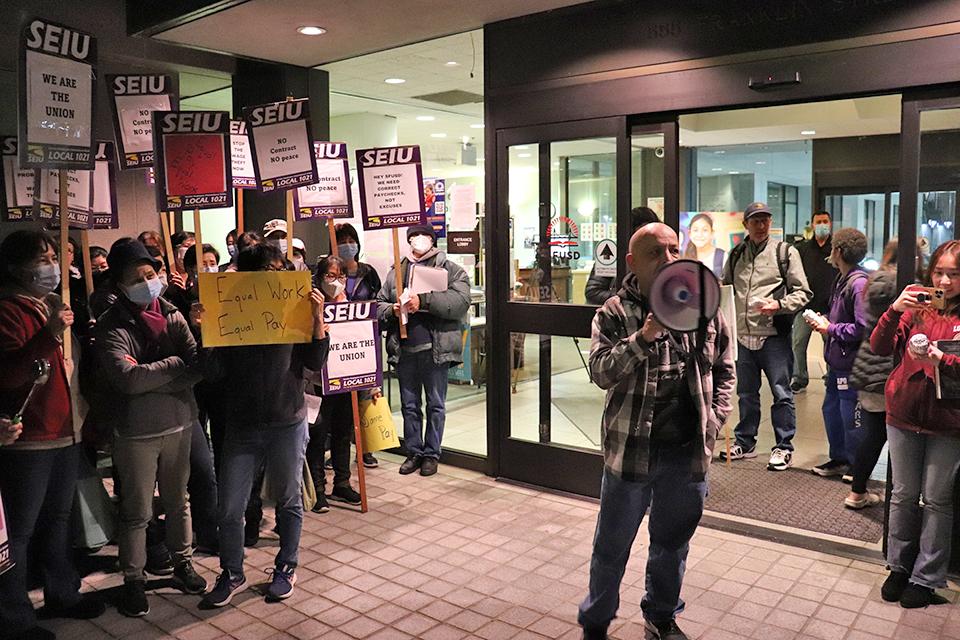 **MEDIA ADVISORY FOR TUES. 2/21**
Contact: Jennie Smith-Camejo, jennie.smith-camejo@seiu1021.org, (510) 710-0201
San Francisco Unified School District classified employees, fed up with deteriorating working conditions for paychecks that have not kept pace with inflation, will march and rally with educators ahead of Tuesday's school board meeting. They are demanding the school board push the administration to take urgent action to address the staffing crisis that has many of them doing the jobs of multiple people for paychecks that are 16% lower than they would make for doing similar work for the City and County of San Francisco.
What: SFUSD workers rally for the schools SF students deserve alongside educators
When: Tues., Feb. 21, 5:30 PM
Where: SFUSD, 555 Franklin St., SF
Who: SFUSD classified staff; march and rally will include hundreds of staff and educators
Visuals: Hundreds of staff and educators in union shirts marching, chanting with picket signs
"We have a revolving door in this district," said SEIU 1021 SFUSD Chapter President Rafael Picazo. "As soon as our classified employees have an opportunity to move over to the City and County, they jump at it. Who wouldn't want to make 16% more for the same work? This means our workers can't keep up with the needs of their schools. San Francisco's students deserve better, and we're ready to fight for the schools they deserve. SFUSD administration has to do better, and we're going to keep showing up, making noise, and taking action until they do."
In addition to untenable workloads and paychecks that have not kept up with 9% inflation in the most expensive city in the country, many classified staff are still experiencing problems due to the district's boondoggle of a new payroll system, which it has spent over a year and tens of millions of dollars to fix with no success.
###
SEIU Local 1021 represents nearly 60,000 employees in local governments, non-profit agencies, health care programs, and schools throughout Northern California, including seven private colleges and numerous community colleges. SEIU Local 1021 is a diverse, member-driven organization with members who work to make our cities, schools, colleges, counties, and special districts safe and healthy places to live and raise our families.