SF Members Take To Streets To Demand PPE
Since this pandemic began, SEIU 1021 members have been demanding universal testing and PPE to keep us safe while we do the critical work of caring for the public.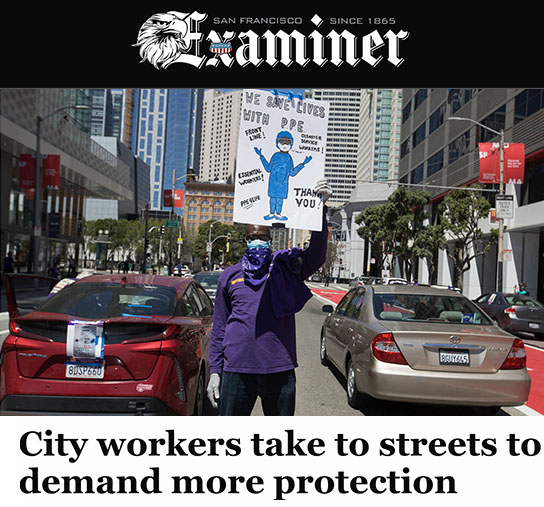 On Friday, April 24, over one hundred San Francisco city workers and allies wearing protective face masks caravanned from the REI parking lot on Brannan St. to the SF Emergency Operations Center at the Moscone Center (check out photos here). An hour after our caravan action, Mayor Breed announced the acquisition of 15 million pieces of PPE.
City workers' demand: universal testing and protective equipment (PPE) for all employees at work of serving residents during this pandemic.
"We are caring for the sick, supporting San Francisco's seniors, children and vulnerable populations, and helping people get where they need to go," said Theresa Rutherford, VP of San Francisco. "Adequate PPE keeps us safer. Universal testing is needed to figure out where the virus is, who is positive, and where it is going, who has fought it off, and whether the San Francisco residents are gaining immunity."
"Essential front line workers are risking their lives, so we can live ours. Without these workers, who are bravely doing their civil duties every single day are heroes. Their mission– to stop this virus from spreading," said SEIU 1021 President Joseph Bryant." We need to make sure they have the essential protections to beat this virus."
After months of activism on the job, at City Hall, and an hour after this caravan action in the streets— SF city workers received one out of two demands to #ProtectAllWorkers. Mayor London Breed announced the acquisition of fifteen million pieces of PPE for frontline workers.
Next—city workers are looking to work with city leaders on making universal COVID -19 testing a reality for all residents and front line workers throughout San Francisco.
Our Caravan Action In The News:
SF EXAMINER: City workers take to streets to demand more protection