As SF Grapples with a Staffing & Vacancy Crisis, City Workers Rally and Call on the Mayor to "Staff Up San Francisco"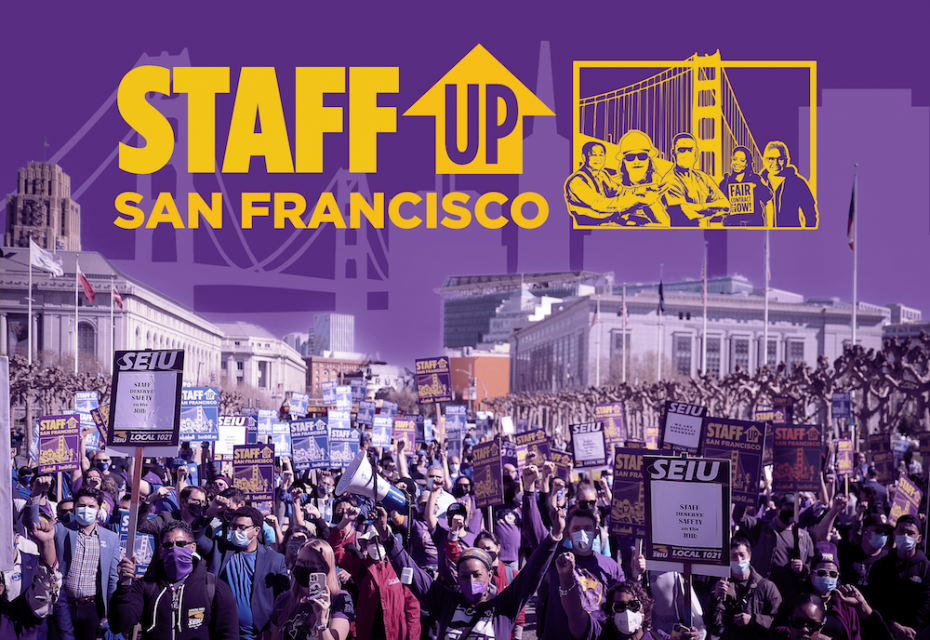 On Wednesday, February 16, hundreds of San Francisco City and County workers from across the city's public unions rallied outside of City Hall and called on the mayor to "staff up San Francisco."
At a rousing rally, City and County workers chanted, displayed signs, and shared moving stories about the myriad ways they have seen the City's staffing crisis have real impacts on residents. Speakers and attendees came from unions representing a broad range of City departments, including workers in healthcare, transportation, the building trades, public works, city parks, the fire department, and more.
"As a nurse, I know firsthand how important it is to have enough staff. It's a matter of life and death. When patients come into our city's hospitals, they rely on frontline employees at the bedside, as well as the porters, clerks, nutrition workers, laundry staff, and more. You want to know that you have the care of a well-rested and safely-staffed healthcare team when you need us," said Nebyat Negaci, a licensed vocational nurse at Laguna Honda Hospital and member of SEIU Local 1021 who has worked for the city for 18 years.
Despite San Francisco's recent budget surpluses, the mayoral administration has left crucial public services dangerously understaffed. There are currently over 3,800 vacant, funded full-time positions for the City and County of San Francisco. When understaffing is this bad, full and timely public services can't be provided. It's a crisis that has been stretching workers thin for years but has been blown wide open by the COVID-19 pandemic.
"Over the last couple of years, we've been deemed essential workers. You know what? We've been essential workers since way before that. This city does not run without the workers here, without the nurses, without the janitors, without the people who run City Hall, without the people who run PUC, without people who run the courts, without the people who run the libraries—we run this city, right?" said Joseph Bryant, SEIU 1021 President.
As the City prepares to debate its 2022 budget, workers called on Mayor London Breed and other city leaders to commit to filling the thousands of vacancies already budgeted, while using the City's budget surplus to expand public services and invest in well-paying, permanent city jobs that serve our residents.
City workers were also joined by elected and community allies, who proudly spoke out in solidarity with the hundreds of workers present.
"We stand with labor. We stand for adequate staffing. We stand for COVID protections. We stand for living wages. We are going to do everything we can to look out for the workers of this city. We know you are the backbone and the heart of this city," said Shamann Walton, President of the San Francisco Board of Supervisors.
"Who and what is San Francisco for? Is it for the people, or just an elite few? There's no excuse for underfunding lifesaving and essential public services. We need a budget that prioritizes our city workers, the services they provide, and the San Franciscans who benefit from them," said Susan Kikuchi from the Chinese Progress Association.
You can check out photos from the event here, as well as a livestream of the event here.