Sept. 8: The Rise for Climate, Jobs and Justice March is coming to San Francisco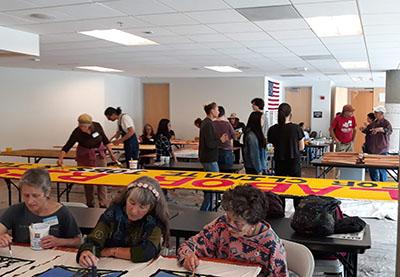 Join us as we march with the labor contingent in a national day of action to demand action and leadership from our elected leaders on climate, jobs, and justice. With our planet, livelihoods, and democracy under attack, labor's message needs to be loud and clear.
Martha Hawthorne, retired SEIU 1021 Public Health RN says she will be marching on September 8, 2018. "I call on our local, state and national leaders to move away from fossil fuels NOW and to a just transition to renewable energy that protects workers and our communities."
United States President Donald Trump announced that the U.S. would end its participation in the 2015 Paris Agreement on Climate Change Mitigationon June 1, 2017. The national and international reaction was overwhelmingly negative from across the political spectrum. The governors of sixteen U.S. States and Puerto Rico formed the United States Climate Alliance to advance the objectives of the Paris Agreement at the state level despite the federal withdrawal. California Governor Brown called for an international climate summit to meet in San Francisco in September 2018. The Rise for Climate, Jobs and Justice March on September 8,2018 will take place on the eve of the international summit.
"Climate change is now fueling disastrous fires across California. Firefighters have already died. Smoke filled air is sickening young and old alike. SEIU working members and retirees, who can no longer afford to live in expensive cities, have moved into fire zones and watched as their homes have burned. With over 100 million dead trees in the Sierras alone, fires will only get worse and firefighting expenses will eat up state and local budgets and reduce funds for schools and healthcare," said Martha.
Rising sea levels and increasing storm intensity caused by climate change are threatening the San Francisco Airport, Foster City and Treasure Island with massive flooding in the future. Homes in Marin County, Alameda, East Palo Alto and the South Bay are also at increased risk of flooding. Many more of us will face homelessness.
"The Trump administration has announced a plan to roll back crucial clean car standards and revoke California's authority to regulate automobile greenhouse gas emissions. This disastrous move will dirty our air, put lives at risk, and cost consumers billions at the pump," said Martha.
Clear your calendar for September 8, 2018. Line-up at Steuart and Market St at 10 AM. March at 11 AMto Civic Center. Invite your friends and coworkers. This march will be serious but fun as well. There will be giant banners, bike cabs, great music and street murals. It will be family friendly.