SEIU/SCTA Joint Plan of Action to Protest SCUSD Bad-Faith Bargaining & Address the Staffing Crisis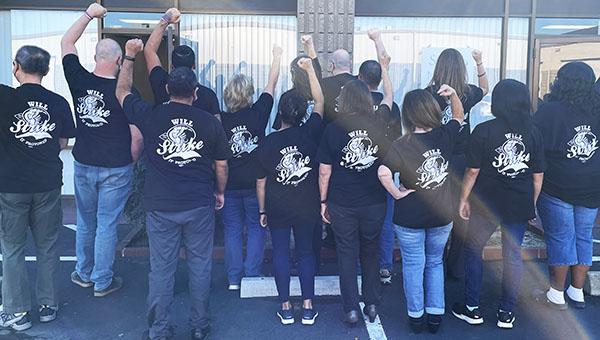 The staffing crisis continues in Sac City:
The shortage of bus drivers, instructional aides, health aides, custodians, and other classified support staff has hindered services to students.
3,000 students every day are without even a substitute teacher.
600 students remain waiting to be enrolled in independent study because there aren't enough teachers.
Despite having the largest reserve fund in its history ($125 million) and having received an additional $313 million in federal and state COVID funds which the United State Secretary of Education has urged school districts to use to address the staffing crisis, SCUSD continues to unlawfully demand unprecedented concessions (which are described more fully below), including pay cuts and cuts to benefits. At the same time, the school board approved another massive pay increase for Superintendent Aguilar, even after both certificated and classified staff voted by over 96% that they have NO CONFIDENCE in his leadership.
In addition, the District just announced yesterday that Superintendent Aguilar will be recommending additional classified and certificated layoffs at the next school board meeting.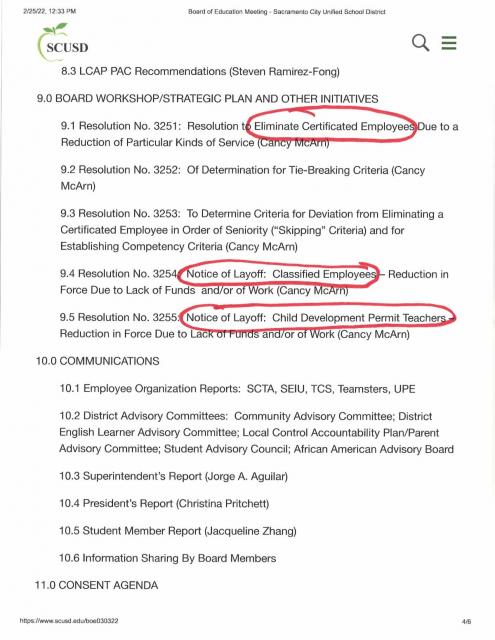 Action steps:
Taking all of these factors into consideration, on Wednesday our bargaining team met and unanimously recommended an action plan to protest the District's failure to bargain in good faith to address the staffing crisis in the District. The plan has been adopted by both SCTA and SEIU 1021.
Step 1- Filing ULPs: We have filed numerous Unfair Labor Practices against the district and will continue to do so. (If you have not taken our working conditions survey yet, please do so now.)
Step 2- Bargaining: The district continues to bargain in bad faith.
Step 3- Strike votes: Yesterday, February 28, the bargaining team has authorized the chapter to hold a strike vote on March 8, 9, and 10 to call for a strike if necessary. SCTA certificated staff will be holding their strike vote at the same time.
Step 4- March 17 school board rally and next steps: On March 17, together with SCTA, we will be holding a rally at the school board meeting to protest the staffing crisis in the District. Based on the District's response, including whether it has cured its bad faith, our bargaining team will determine if any additional actions are necessary and the timing of such actions.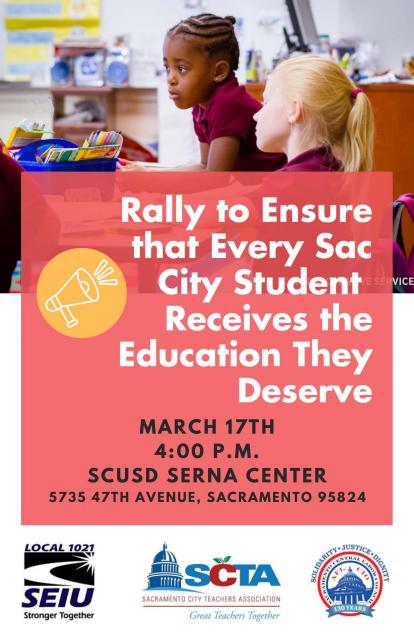 SCUSD management demands takeaways:
Although the district has not verbally told us of these proposals–despite months of bargaining–the concessions the district is demanding are clearly posted on the district website.
Here is a more detailed summary of the District's demands for concessions:
A 5-year wage freeze and financial cuts in the average classified employee's take-home pay.
25% cut to family health care plan.
Elimination of family dental and vision plan.
New round of classified staff layoffs, pending Board approval.
2% across-the-board reduction in take-home pay. The District is demanding that every staff member contribute 2% in salary for retiree health insurance benefits.
A furlough day.
SEIU & SCTA SOLIDARITY
Wear your shirts on Thursdays!
In solidarity, we are asking SEIU members to please wear their purple or black SEIU shirts every Thursday. For those who do not have a shirt: We are working on trying to get some; please wear purple on Thursdays in the meantime.
We have heard that some supervisors are telling employees they cannot wear their union shirts. You have the right to wear this shirt. If anyone tries to restrict your right to wear your SEIU shirt, please alert your union steward or call the Member Resource Center: 877-687-1021.
Upcoming COBRA Team Meetings:
TODAY, Tuesday, March 1, 5:30-7:30 pm
Thursday, March 10, 2022 5:30-7:30 pm
Zoom info to join COBRA meeting:
https://seiu1021.zoom.us/j/88668086691?pwd=NEhpc1JUSW5ycVBVU3RTZ2V6RE1UZz09
Meeting ID: 886 6808 6691
Passcode: 1021
Or join by phone: 669 900 6833