An SEIU member wins elected office in Solano County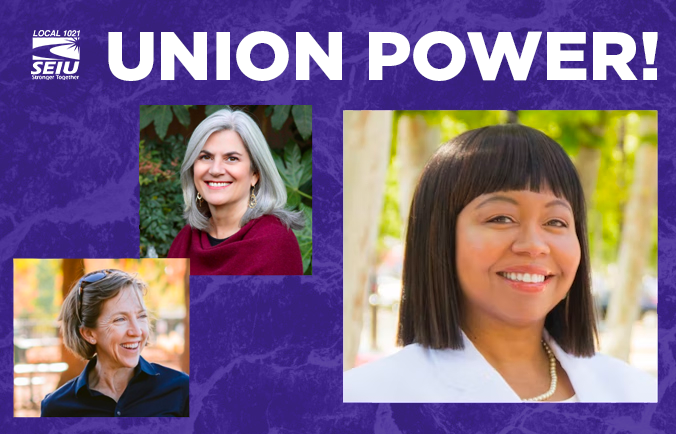 SEIU 1021 was proud to endorse Suisun City Councilmember, Solano Land Trust Project Manager, and longtime community advocate Wanda Williams for Solano County Supervisor. We know she'd work just as hard for our members in Solano County as their next County Supervisor—because she was an SEIU member, too!
As a member of Solano County's Board of Supervisors, Wanda will focus on what really matters: economic revitalization as we emerge from the pandemic and shared prosperity throughout Solano County. Wanda is committed to protecting open space, farmlands, and Travis Air Force Base, and passing the kinds of commonsense policies that build community and keep all of Solano County safe.
SEIU 1021 Solano County Bargaining team member Nicole Chavira said, "Although the final votes have not yet been tallied, it looks like Wanda Williams will be Solano County District 3 Supervisor. A longtime community advocate, Wanda Williams will focus on addressing our regional homeless crisis with compassion, increasing workforce and affordable housing for seniors and working families, and supporting businesses that provide well-paying jobs in Solano County. For our Employees in Solano County, that means we now have 3 allies on the Board of Supervisors! Wanda Williams is a former member of SEIU 2015 and will advocate for us at contract time. Congratulations, Wanda Williams!"
SEIU 1021 also endorsed two planning commissioners, Joelle Gallagher and Anne Cottrell. Both appear poised to win the races for Napa County's District 1 and 3 seats on the Board of Supervisors, according to initial results from Tuesday's election.
SEIU 1021 endorsed both commissioners based on their track record of service, ability to listen to residents and civic leaders. We believe they can develop innovative solutions to complex issues, as well as work to prevent homelessness by supporting children and families who live and work in Napa County.
"We (NAPE/SEIU1021) endorsed and supported both Joelle and Anne and are excited to welcome them! They bring with them experience, knowledge, and a proven dedication to our community. We bring the expectation that everyday people, which includes the employees of Napa County, will be heard above the din of big money and personal gain," said Sabrina Bucklin, an HHS employee and President of the Napa chapter of SEIU Local 1021.