SEIU Leaders Join Fast Food Digital Assembly to Show Support, Reflect on Recent Victories Wage and Workplace Safety Victories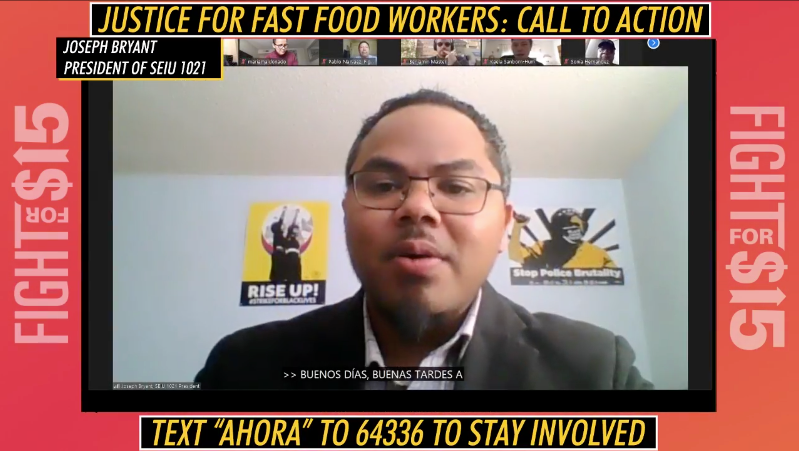 On November 20th, SEIU 1021 President Joseph Bryant and SEIU International President Mary Kay Henry joined fast food workers from across the country for the Justice for Fast Food Workers: Call to Action digital assembly.
"Within the first six months of the pandemic, billionaires' wealth grew by over $845 billion. As this is happening, the lines at food banks are growing longer and countless families have lost their healthcare…Our members are committed to standing with you in the fight for justice, as we have from the very beginning, to protest fast food corporations that are prioritizing their profits over our communities," Joseph Bryant told the assembly of fast food workers.
Fast-food workers and union leaders discussed how fast-food workers organized a strike wave during COVID-19, and called on elected officials to hold billion-dollar fast-food companies accountable for unsafe and unfair conditions.
For nearly a decade, fast food workers have fought for a nationwide $15 minimum wage and union rights—and they are making more and more progress with every passing year. Just this year, fast-food workers have won $15 in Florida and some of the most powerful COVID protections in the country here in California.
Watch the full video of Friday's digital assembly by clicking here.