SEIU 1021 Welcomes 260 New Members: Alameda Health System / EBMG Physicians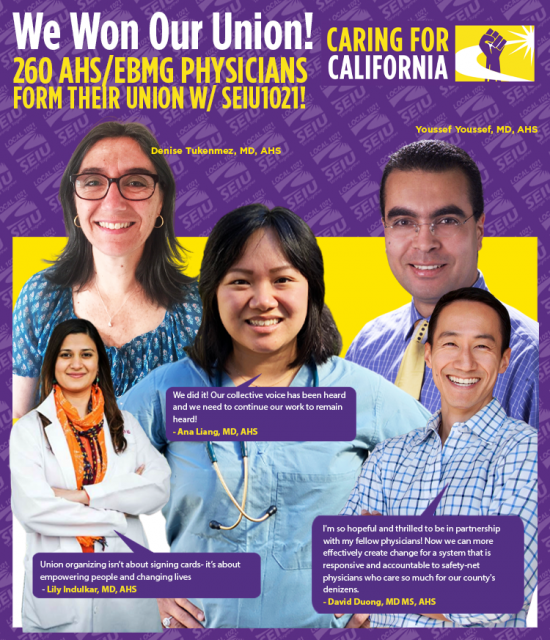 After the historic 2020 unfair labor practice strike by SEIU 1021 members at Alameda Health System, other workers in the system wanted to know how they could build power and make a difference. Over the next weeks and months, those workers, physicians in EBMG, worked closely with 1021 stewards and other chapter leaders to organize their co-workers. Last week, 260 EBMG physicians won recognition from management and became members of our union.
AHS General Unit President Veronica Palacios said, "Our members are in awe that these physicians have joined our union. We are so happy to have them, and it is mindblowing for us that this has happened here. Physicians have never been part of our union before, but everyone deserves a union. This is history! There's no other way to say it."
To win their union, the physicians collected video testimonials and took steps including presenting a petition to the Board of Trustees along with AHS chapter leaders to show their wide support.
When we add members, we all get stronger, and adding new kinds of workers to our movement ensures that we continue to forge a vibrant, growing union. The passion and determination of these new physicians will make our organization more powerful, and the protections of our union will make the vital work they do for our community safer and smoother.
As Ana Liang, an MD, said, "We did it! Our collective voice has been heard and we need to continue our work to remain heard!"