SEIU 1021 Members Speak Up to Help Small Businesses and Homeowners Across Oakland with a Progressive Business Tax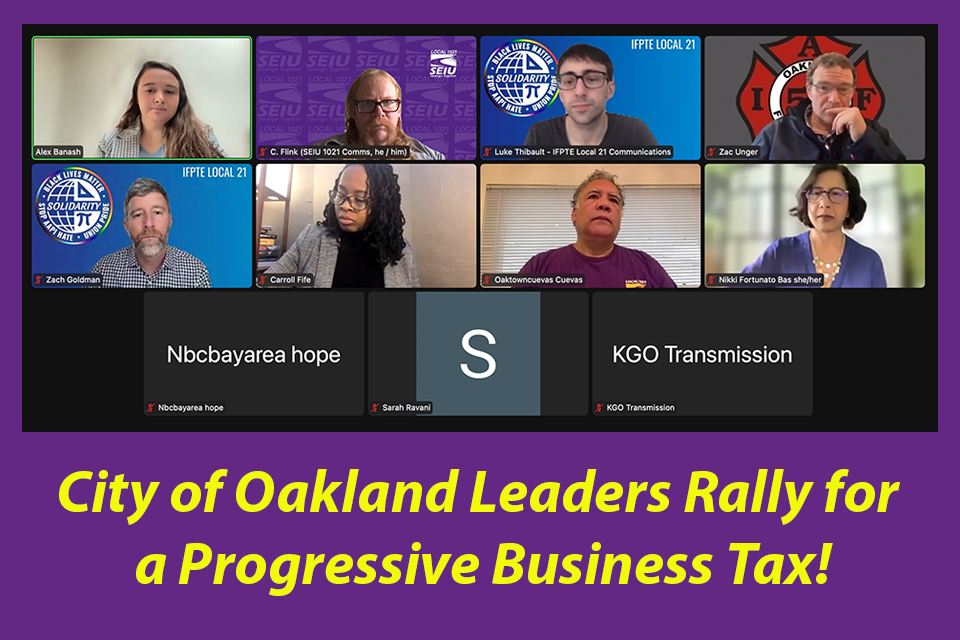 SEIU 1021 Members Speak Up to Help Small Businesses and Homeowners Across Oakland with a Progressive Business Tax
It's time for the City of Oakland to join other Bay Area cities and modernize its regressive business tax structure with a progressive version. The Invest In Our Oakland Small Business Tax Relief Act would cut taxes for over 20,000 small and midsize businesses, will not increase taxes on homeowners, and would raise over $40 million per year to fund essential city services. The measure will ask the largest corporations in Oakland to pay their fair share for vital services.
The Invest in Our Oakland campaign, which SEIU 1021 supports, is filing the language of an initiative this week so that it can start collecting signatures in February to place it on the November 2022 election ballot. To qualify the measure the coalition will have to gather 25,311 valid signatures in 180 days. On Tuesday, January 18th, the Invest In Our Oakland campaign hosted a press conference to launch this effort.
"I'm proud to stand with the Invest in Our Oakland coalition. Everyone in Oakland city government agrees: Oakland needs to update its outdated, over-twenty-year-old regressive tax structure. Well-resourced and well-run cities with clean and safe streets, where people have stable and dignified housing, and where kids have access to rec centers and libraries—these are the cities where our communities can thrive, and that are attractive for businesses," said Nikki Fortunato Bas.
"What I want to see with the Invest in Our Oakland Act, is for Oakland's largest businesses, many of whom have made record profits during the pandemic, to work as partners in a relationship with our entire city to pay their fair share and make sure that Oakland residents have clean streets and all of the services that they currently pay for. Historically, the burden of these services has been on homeowners, and I don't think that's fair," said Carroll Fife.
At the press conference, SEIU 1021 Oakland Chapter President Felipe Cuevas said, "The potholes you see on the streets are there because we have holes in the teams that fill them. In critical departments we have a vacancy rate of 20% or greater. Across the city, there are over 584 job positions that are unfilled. This understaffing results in vital city services going undone. With increased funding from the Invest in Our Oakland Act, we'll be able to invest in good jobs that provide services Oaklanders need in education, housing, public safety, first responders, clean streets, bike lanes, and more."
On local radio station KPFA, Cuevas said, "It's an old tax that needs to be revised. The addition of these monies will help the city provide a lot more services, for example in libraries, Head Start, and recreation centers. We're on board with this all the way. There's a lot of needs in the City of Oakland, and this funding is needed. This is something we desperately need."