SEIU 1021 members in San Francisco win expanded workplace benefits and protections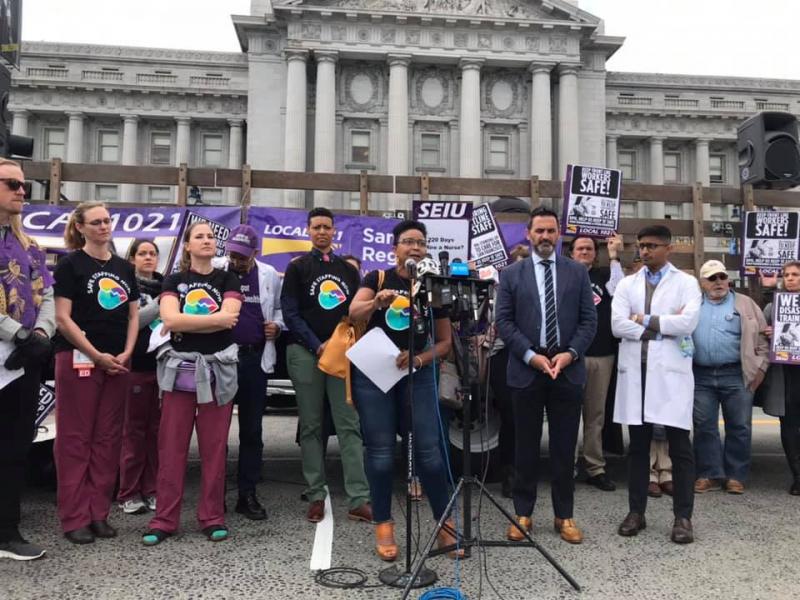 The COVID-19 pandemic has been a difficult and frightening time for all of our members—those who are still working on the frontlines of this crisis to provide service, and those of us at home keeping ourselves and our families safe during this pandemic.
Throughout this crisis, SEIU 1021 leaders in San Francisco have been working hard to ensure the health, safety, and economic well-being of our members, families, and communities. We're excited to announce new victories for workers in San Francisco below.
Have questions or need to contact us to report something happening in your worksite? Our Member Resource Center is still available from Monday through Friday from 8 a.m. to 6 p.m. @ 1-877-687-1021. You can also email us at fightcoronavirus@seiu1021.org.
In times like this, it's more important than ever that we stick together to advocate for ourselves, our safety, and our loved ones—this means standing together as members of SEIU 1021. Our union is only as strong as our membership; if you haven't yet signed up to be become a member, now is the time. Click here to become a member today.
Personal Protective Equipment
We are continuing our advocacy to ensure that appropriate personal protective equipment is provided and available everywhere it is needed. As part of this, we have demanded increased access to proper fitting of N95 masks for those who need them including those who handle hazardous waste and are in high risk environments. Our Union is active in identifying vendors to supply PPE to the city so that all front line workers have access to appropriate PPE.
Paid Administrative Leave
For employees performing essential services who must remain in the workplace and have been quarantined, diagnosed with COVID-19, or are COVID-19 symptomatic:
The employer will presume that infection occurred at work;
Workers must first use their new Family First Coronavirus Response Act leave (see below), but then;
Can supplement with this paid administrative leave.
Paid Furlough Extended Through May 1
Paid furlough for workers available to work, but for whom no work is available, is extended through May 1.
Sick Leave Benefits
Family First Coronavirus Response Act (FFCRA) – Additional 80 hours. of sick leave which can be integrated to other leaves to maintain full wage replacement. This is a federal program which caps the daily value of the benefit at $511 per day. Can also be used for other uses – for example caring for a family member on quarantine or a child home due to school closure – with a cap of $200 per day and integrated with other leaves. This benefit is prorated for part time employees.
Additional 80 hours of sick leave for any use including school closure or self-quarantine. This additional leave is prorated for part time employees.
Sick Leave advance program continued through May 1. If you've already used the sick leave advance your banks will be credited using the new grant of sick leave detailed above.
Caps Raised
Vacation accrual cap raised by up to 80 hours until end of December 2021.
Floating holiday cap raised by up to 80 hours with rollover to FY20-21 and FY21-22.
"Z" designated employees who are eligible for comp time will have their comp time cap raised by up to 80 hours.
Incentive Floating Holiday Time
In recognition of frontline staff who are still reporting to worksites (not telework), such as members working in hospitals and healthcare settings, 8 hours floating holiday will be earned for every regularly scheduled 40 hrs. worked, up to a maximum 80 hours floating holiday.
Click here to read the full, updated COVID-19 compensation plan.
Click here to read the full, updated COVID-19 paid leave plan.