SEIU 1021 members in the East Bay are racking up the contract wins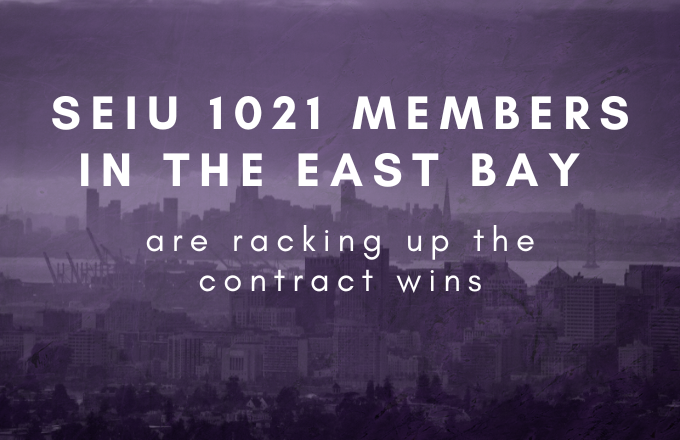 In the East Bay, SEIU 1021 members have been bargaining strong new contracts all year. In recent weeks, East Bay Innovations and Oakland Housing Authority workers have become the most recent chapters to have voted to ratify their respective new tentative agreements (TAs) with their bosses.
East Bay Innovations workers help keep individuals with disabilities connected to their communities by keeping them in their homes and at work. Through a lengthy bargaining process, their bargaining team stuck together and won a new contract that will improve their working lives and their ability to do their important, demanding work. The three-year contract includes an immediate 10% wage increase, with a bonus equal to a 10% raise for all hours worked during the period from March 1 through November 15. The chapter will also re-open the contract in the third year for a wages-only negotiation.
The workers won more than just a raise, though. They also scored big wins in their contract on all kinds of issues, including new contract language around respect at work, mileage reimbursements, flex time, and sexual harassment protections. They were also able to remove outdated disciplinary action and make improvements on mental health time, bilingual compensation, and emergency-call language.
Oakland Housing Authority workers are on the front lines of our fight for affordable housing in Oakland, and their own long bargaining process also won resulted in significant improvements. These workers also have a three-year contract, with cost of living adjustments (COLAs) of 6% in the first year, and 5% in both the second and third years. There's also a $2,000 signing bonus due to the members if the Board of Commissioners approves the deal by December 31 of this year, and a lot of other improvements to contract language. More than 93% of the votes on the TA were "Yes" votes. The Board of Commissioners will take up the contract on December 12.
Renee Terrell has been a Housing Assistant Rep II with the Oakland Housing Authority for 11 years. She serves as the SEIU 1021 chapter president. She said, "I'm very pleased with this contract. It's well-rounded, and doesn't just have wage increases, but improvements to benefits and working conditions as well. This was very important to our negotiation team. We had a holistic approach, looking at everything we could to get wins for our members. Some of things I'm most proud of are our new telecommuting language, to address issues that have come up during the pandemic, our improved parking stipend for downtown workers, a better education fund system, and a longevity pay benefit for our longest-tenured workers."
"It was a challenging negotiation process, to be honest," said Renee. "We had a very experienced negotiation team, and we worked in a very intentional way. We found it very important to be fully invested and make sure our voices were heard, and in the end, we were able to finish the process in a historically short time!"