SEIU 1021 members call for PPE, safe working conditions, and an economy and democracy that work for all during powerful healthcare roundtable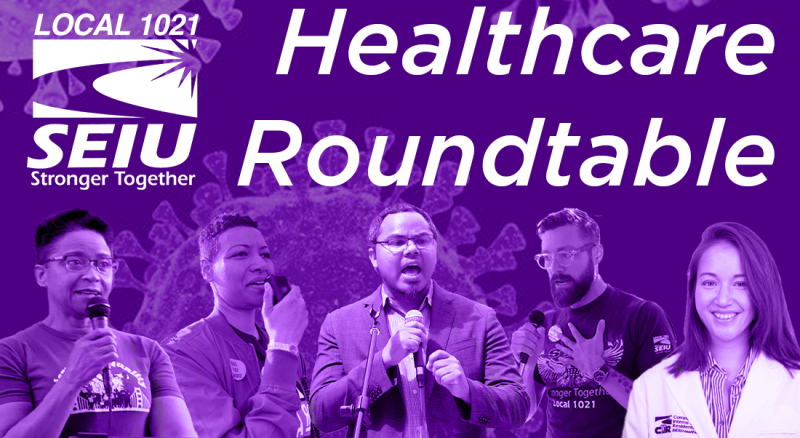 On Thursday, April 30, SEIU 1021 healthcare workers hosted a roundtable discussion via Facebook Live to discuss the COVID-19 pandemic, and ways members in healthcare settings have been working tirelessly to keep patients and our communities safe. You can watch the full discussion here (fast forward to the 7:00 minute mark).
Panelists encouraged everyone to take action by demanding Congress include funds for local and state governments in future stimulus bills to protect the crucial work we do. You can add your voice at seiu1021.org/actnow or by calling 877-851-2521 to be connected to the office of your elected representatives.
SEIU 1021 President Joseph Bryant and SEIU 1021 VP of Organizing Jennifer Esteen, RN hosted the event, along with a panel featuring:
Theresa Rutherford, SEIU 1021 Vice President of San Francisco and Nurse Assistant at Laguna Honda Hospital
John Pearson, Registered Nurse and SEIU 1021 Chapter President at Alameda Health System
Dena Galindo, SEIU 1021 Steward and Office Systems Specialist at San Joaquin General Hospital.
Dr. Amelia Breyre, Committee of Interns and Residents (CIR-SEIU) Regional Vice President for Northern California
"This is the fourth installation of our "reach every member" broadcasts, which we kicked off about six weeks ago at the start of "shelter in place." We created this platform to provide important information and updates for our membership, to continue to organize, unite, and collectively fight to protect all workers who are impacted by the crisis, and we also wanted a space where we can lift up our coworkers who continue to heroically provide the essential services that allow our communities to function day in and day out throughout this pandemic," said Joseph Bryant, SEIU 1021 President.
Throughout the evening, panelists discussed the challenges they are facing in the wake of the COVID-19 pandemic. For many healthcare workers, this crisis has exposed the already-existing cracks in our public services, which for years have been underfunded and starved of resources.
"In the hospital that I work in, a lot of patients don't have health insurance or they have health insurance that they have to pay a lot out of pocket for so that influences whether or not they get care. It would fundamentally change our workplace and also change our contract negotiations for ourselves and the amount of healthcare workers our hospital employs if everyone had healthcare. And so there is a connection between that and democracy in the workplace that we're trying to build and are fighting for all the time," said John Pearson, RN at Highland Hospital and Chapter President at Alameda Health System.
Dr. Amelia Breyre, Regional Vice President of Northern California for the Committee of Interns and Residents (SEIU), also works at Highland Hospital as an Emergency Resident. She added to John's remarks by highlighting the way public health and community health touches us all by saying, "This pandemic has really highlighted all of the preexisting cracks in our healthcare system. They've always been there, but now they're more obvious and it's taught us that our community's health is all related. When detained immigrants get sick, when homeless individuals get sick, when incarcerated individuals get sick, then we're all at risk."
In many places across Northern California, public safety net hospitals and health services are the only resources available for some communities. In San Joaquin County, members have been in fight with County administrators who many suspect are fighting to privatize the public hospital.
"In San Joaquin County, we're losing two of our Federally Qualified Health Clinics due to the Board of Supervisors wanting to reduce some places where we have some revenue loss. The CAO in our County is also big on making our hospital a private organization instead of a public organization. It's a place for vulnerable workers—migrant farmworkers, undocumented or uninsured workers. We need to make sure we have these organizations in all of our counties so we can care for vulnerable people," said Dena Galindo, an SEIU 1021 Steward and Office Systems Specialist at San Joaquin General Hospital.
Participants ended the roundtable discussion by stressing the importance of people taking action in their workplaces, in their communities, and in the political arena. Theresa Rutherford, SEIU 1021 Vice President of San Francisco and Nurse Assistance at Laguna Honda especially stressed the importance of political engagement.
"We all have to be involved in politics in our communities, because that's where decisions are made that impact all of our lives. When you block healthcare from immigrants, when you start delineating who has value and who doesn't, who is entitled to healthcare and who isn't—this pandemic shows us is when we make those distinctions, we end up hurting ourselves and our entire community. Right now, the cracks are showing…in order to be able to control this virus, you'll need healthcare for all," Theresa said.