SEIU 1021 Executive Board Statement Calls for Ceasefire in Gaza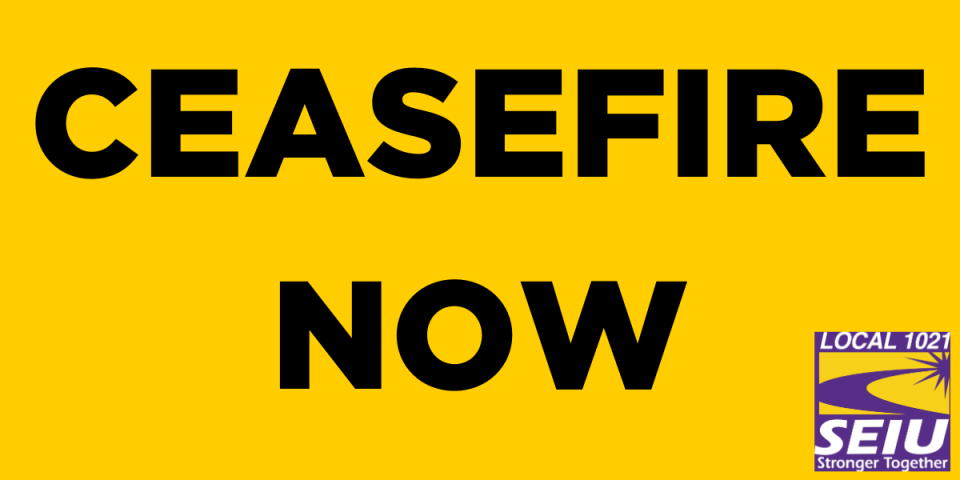 Monday, November 6, the SEIU 1021 Executive Board held an urgent meeting after hearing concerns from dozens of members across Northern California about the need for the union to join labor unions and organizations around the world about the humanitarian crisis in Gaza.
Executive Board members discussed the situation at length and decided to issue the following statement as a first step.
"For the past few weeks, we have heard many voices about the situation in Israel-Palestine. We are shocked and horrified at the violent events that took place on October 7 targeting Israeli civilians. We are also shocked and horrified at the Israeli military response that is killing thousands of Palestinian civilians in Gaza—an area where almost half of the population are children. We do not condone military and violent action that kills or leads to the suffering and death of innocent civilians. Our unionist and humanitarian sides are being called into action today!
We are endorsing the movement for a CEASEFIRE NOW in the region. This is a significant first step–one that will save thousands of lives and a path to peace can begin. We invite and ask you to join the movement and take concrete action today by contacting your elected representatives in Congress to demand a CEASEFIRE immediately. (You can look up phone numbers and emails for your members of Congress here, or you can use one of the many email portals designed to make this easy, like this one from Jewish Voice for Peace here.)
We are committed to bringing members together to understand and learn more from them, their families, and our allies. Our union will create an educational forum to further our understanding and solidify our position to support a lasting peace and justice for all people."