SEIU 1021 Congratulates Mike Hutchinson on Oakland Unified School District Board of Education Victory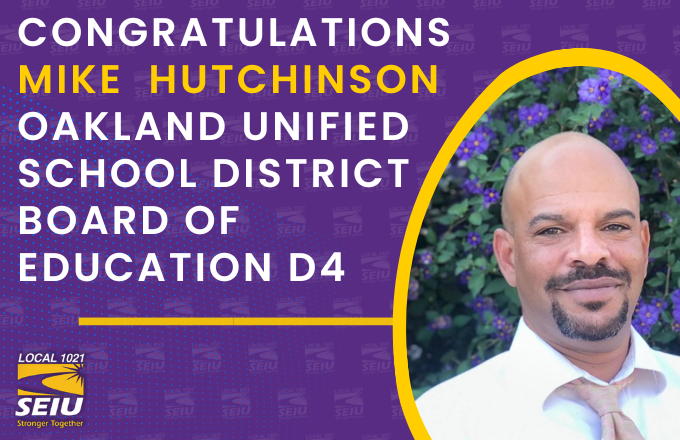 **FOR IMMEDIATE RELEASE 12/30/23**
Contact: Jennie Smith-Camejo, jennie.smith-camejo@seiu1021.org, (510) 710-0201
Statement from SEIU 1021 President Theresa Rutherford: "Late Wednesday, the Alameda County Registrar of Voters announced that SEIU 1021's endorsed candidate for Oakland Unified School District Board of Education District 4, Mike Hutchinson, is the legitimate winner of that race.
"We often say that elections have consequences; the consequences in this race are profound. As a current OUSD school board director for District 5, Mike Hutchinson has taken a stand to protect Oakland schools serving predominantly Black and brown children from closure. School closures can do irreparable harm to Black and brown communities, the children who are displaced from their community schools and their families, and the staff and educators in those schools. That's why SEIU 1021, which represents OUSD's classified staff – the people who keep Oakland schools clean, safe, and running smoothly – reached out to thousands of voters by phone and at their doors in support of Mike Hutchinson. We congratulate him on his win and look forward to working with him and the whole school board to improve public education in Oakland."
###
SEIU Local 1021 represents nearly 60,000 employees in local governments, non-profit agencies, health care programs, and schools throughout Northern California, including seven private colleges and numerous community colleges. SEIU Local 1021 is a diverse, member-driven organization with members who work to make our cities, schools, colleges, counties, and special districts safe and healthy places to live and raise our families.