SEIU 1021 and Other SFUSD Unions Reach Agreement That Ensures High-Quality Masks and Weekly Testing for Students and All Employees and Extended COVID Sick Leave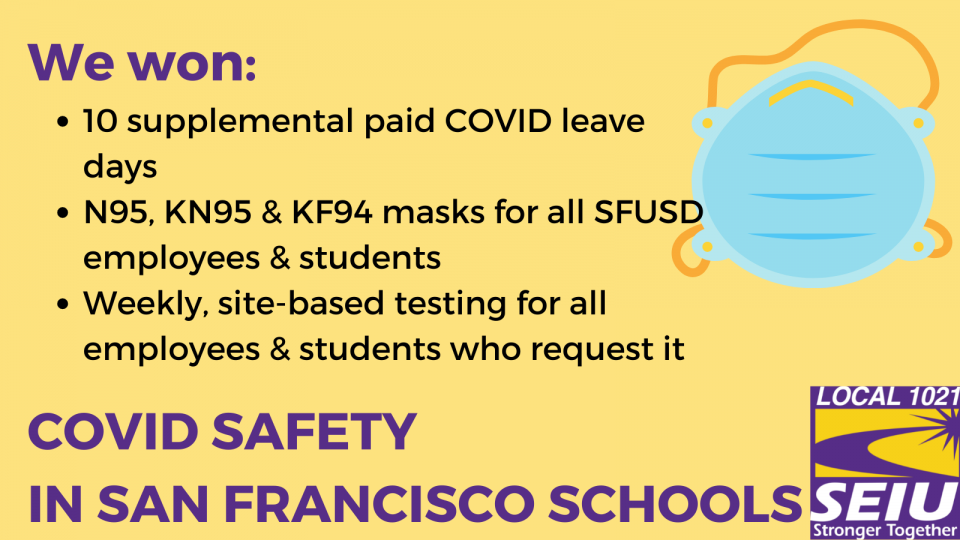 Thanks to the tireless organizing and mobilizing efforts of the members of SEIU 1021 and the other unions of SFUSD, we were finally able to push District management to accept our COVID safety proposals at the bargaining table last night.
The agreement between SFUSD and the unions – SEIU 1021; IFTPE Local 21; San Francisco Building Trades Council; UASF Local 3; UESF — guarantees N95, KN95, or KF94 masks for all students and school workers; guaranteed weekly testing at all District sites, including every SFUSD school, for all students and employees who request it; and 10 days of supplemental paid sick leave so that employees who test positive or have symptoms can stay home and keep students, coworkers, and school communities safe.

SEIU 1021 SFUSD Chapter President Rafael Picazo said, "We are pleased that we were able to reach an agreement with the District that will make our schools safer for students, staff, educators, and our entire communities during this unprecedented surge of COVID. It's critical that school workers be able to stay home when they are sick without losing their ability to pay their bills, and the agreement that we've worked hard to reach will allow this—making all of us safer, so teachers can teach, our students can learn, and our schools can stay open." (See this story on KPIX 5 about the agreement.)

This shows that when working people stick together and mobilize our communities–including gathering thousands of signatures from SFUSD employees and parents on a petition demanding these protections–we can and do win!