SCUSD Strike Continue, as Workers Wait for Counterproposals from District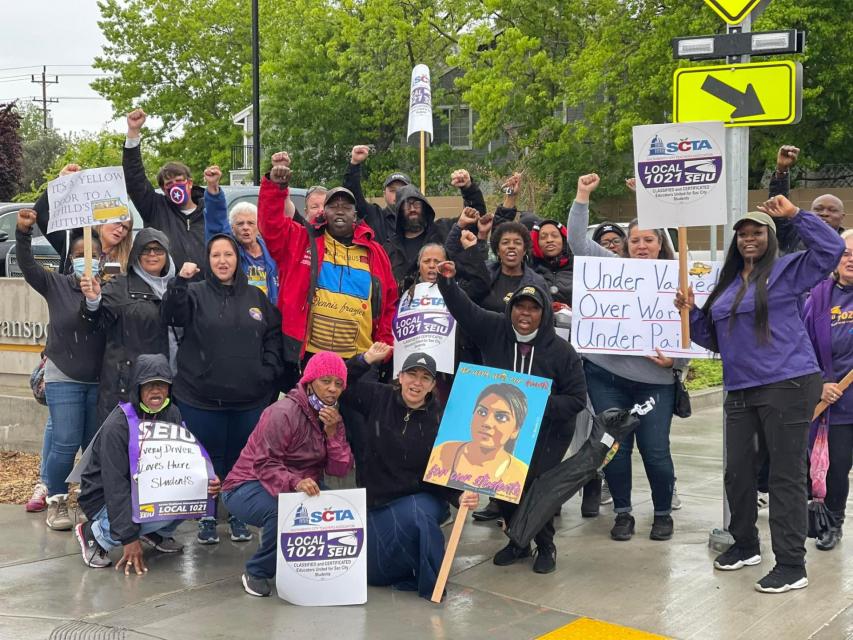 A strike by 4,600 Sacramento classified staff and teachers, members of SEIU 1021 and the Sacramento City Teachers Association (SCTA) respectively, has entered another school week.
Talks between union members and Sacramento City Unified School District (SCUSD) only started in earnest Saturday, after SEIU 1021 made our request to bargain public and alerted the media. SCUSD management had claimed in a press release Thursday they had been available for bargaining all week, while they had ignored our requests to bargain since March 17, before the strike began.
"We are eager to go back to work taking care of Sacramento City students. Right now, we are still waiting on the District to respond to our counterproposals," said SEIU 1021 SCUSD Chapter President Karla Faucett. "We are ready to keep working until we have a fair deal that will help us retain and recruit the staff our students so desperately need."
Right now, there are 400 vacant classified positions across the District, impacting classifications including instructional aides, nutrition service workers, school bus drivers, clerical staff, custodians, and maintenance. The district's staffing shortage has left instructional aides in charge of whole classrooms, children waiting for an hour or more at bus stops, an inability to keep school buildings clean to the point of receiving Cal/OSHA violations, and more.
Despite being in its best financial position in recent history and despite skyrocketing inflation, SCUSD management has refused to offer classified staff–many of whom barely make minimum wage and who haven't had any kind of raise or COLA in six years–more than a 2 percent COLA. Their proposal to address the staffing crisis is a one-time signing bonus for new hires that would do nothing for long-time District employees who have dedicated years, and in some cases decades, to working with Sac City students.
"They acknowledged that SCUSD classified staff are underpaid relative to the market, but the proposals they made would not bring those workers anywhere near market rate," said Faucett. "Further, their proposal to address the staffing crisis by offering one-time hiring bonuses would offer nothing to current employees–which is disrespectful to the countless hardworking SCUSD staff members who have dedicated decades to taking care of this district's children every day. We are seeking equitable compensation, benefits, and working conditions across the district so that every person who serves our city's children is valued and wants to stay and continue dedicating their careers to this district."
On Monday, as the rain fell from the sky, a rally was held in support of striking classified staff and educators featuring famed civil rights and labor leader, Dolores Huerta, the co-founder of the United Farm Workers.
"Just like we need the rain to nourish our lands, we need teachers to nourish our brains!" Dolores Huerta told a crowd of supporters gathered with their umbrellas and rain jackets.
Sacramento County Supervisor Phil Serna and Sacramento City Council member Katie Valenzuela participated in Sunday's bargaining session. Both urged the district to accept the fact-finder's report and SCTA's proposals. The two elected leaders stated in writing that SCTA's proposals "are reasonable, will help SCUSD address the staffing crisis, and will bring the strike closer to an end."
While the strike continues, SEIU 1021 member leaders are hopeful that the District will come back to the table prepared to bargain in good faith for an agreement that will end the strike and get kids back in the classroom.
Please chip in whatever you can to support SEIU 1021 members on strike at Sacramento City Unified School District!