San Francisco Supervisor "Fed Up" with Failure of City-Funded Nonprofit to Address Charges of Union-Busting and Threatens Subpoena
Nonprofit workers applaud move to hold Felton Institute accountable for unlawful, anti-union activity after agency management is a no-show at a recent Board of Supervisors' hearing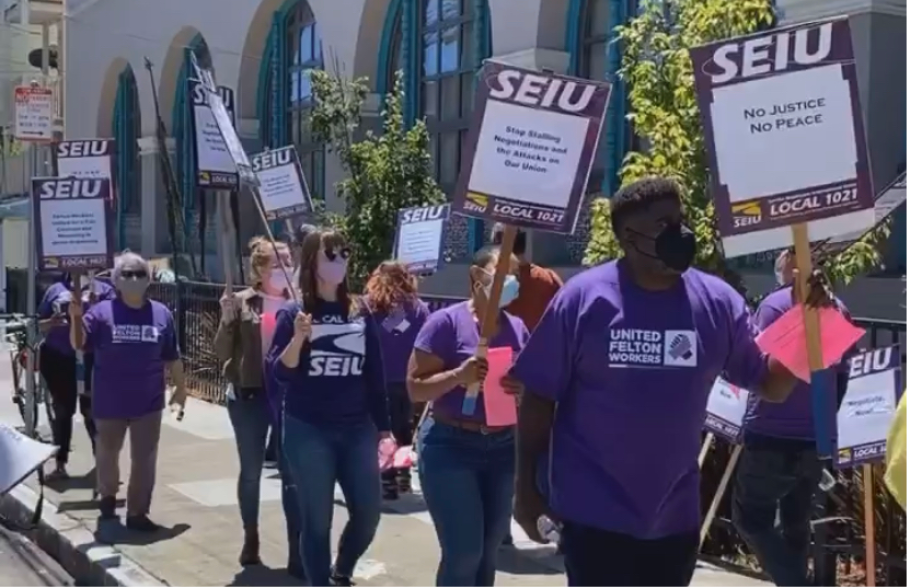 *FOR IMMEDIATE RELEASE*
Contact: Carlos Rivera, carlos.rivera@seiu1021.org, (415) 378-2376
(San Francisco, CA) San Francisco District 7 Supervisor Myrna Melgar released on Instagram yesterday a warning letter to the CEO of Felton Institute, calling on the human services nonprofit to release documents related to any use of city funds to support union-busting activities and threatened to issue a subpoena through the office of San Francisco City Attorney David Chiu if Felton does not furnish the documents by March 1.
Felton Institute, which receives more than $20 million annually in funding from the City and County of San Francisco to deliver a broad range of social services programs, including substance abuse and mental health treatment, is currently the subject of nine unfair labor practice charges at the National Labor Relations Board.
Supervisor Melgar sent the letter in the wake of Felton senior management's refusal to attend a hearing last October about ongoing labor problems at the agency convened by the Board of Supervisors' Budget and Oversight Committee. Supervisors were visibly upset when Felton PR representative Sarah Baker read a prepared statement at the hearing and refused to answer supervisors' questions.
"Despite hearings, letters, and meetings, we are still left without answers from the Felton Institute regarding their interactions with union organizers," Supervisor Melgar posted on Instagram. "I am fed up. My colleagues and I remain dedicated to supporting workers across San Francisco and protecting everyone's right to organize. Yesterday, I sent this letter to the Felton Institute once again demanding answers one final time before we issue a subpoena." You can download a copy of the posted letter here.
"This is tremendous news, and we appreciate the Board of Supervisors' commitment to holding Felton accountable for their unlawful behavior," said Eva Cisneros, an employment and education specialist at the Felton Institute who is active in union organizing efforts. "It's unconscionable for a city-funded nonprofit in San Francisco to engage in such egregious anti-worker conduct," she said. "Felton receives approximately 95% of its funding from public dollars. Felton needs to be held accountable for how it spends millions in public money to protect taxpayers, workers, and the communities we serve."
BACKGROUND
Felton Institute's staff provides crucial social and mental health services to vulnerable community members. Years of short-staffing, inadequate support, bullying by management and low pay for frontline staff have led to burnout and excessive turnover —all of which impact client services. Currently, a small portion of Felton's staff is represented by SEIU 1021 and are bargaining a new contract. Other non-union members of the Felton staff are seeking to join their coworkers as members of SEIU 1021.
Felton's management team has called the police on staff multiple times for discussing or demonstrating support for the union on public sidewalks outside workplaces and in a public park during a staff picnic. Currently, there are nine unfair labor practice (ULP) charges pending against Felton at the National Labor Relations Board, including:
Terminating an employee for union support
Retaliating against workers for their union support
Bargaining in bad faith
Unlawfully prohibiting workers from wearing union shirts to show their support for the union
Engaging in unlawful surveillance of employees participating in union activity.
Felton's management team is also violating a legally-binding neutrality agreement they signed in 2019, wherein they promised, in part, not to, "hinder Union efforts to campaign or influence bargaining unit members to sign authorization cards or otherwise aid, assist or support the Union."
According to the most recent publicly available data, Felton received $39.67 million in public funding during FY 2020-2021. This included more than $20 million from the City & County of San Francisco and additional funding from Alameda, San Mateo, Marin, and Monterey counties. Felton CEO Al Gilbert's salary is $300,000, and most C-suite executives at Felton Felton earn more than $200,000.
###
SEIU Local 1021 represents nearly 60,000 employees in local governments, non-profit agencies, health care programs and schools throughout Northern California, including 20,000 in San Francisco.