Sacramento City Unified Schools Staff Vote by 99.8% to Ratify New Contract
The new contract will help retain classified staff with $7-11k in one-time stipends in addition to ongoing raise, with incentives to recruit new workers.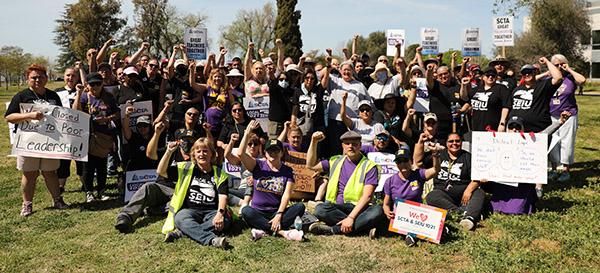 **FOR IMMEDIATE RELEASE**
Contact: Jennie Smith-Camejo, (510) 710-0201, jennie.smith-camejo@seiu1021.org;
Karla Faucett, SEIU 1021 SCUSD Chapter President, (916) 812-3827, karla.faucett@seiu1021.org
Sacramento City Unified School District classified staff – including school bus drivers, nutrition service workers, instructional aides, custodians, and clerical staff – have voted by over 99% to ratify the tentative agreement they reached April 4 following a strike that shut down schools for eight days.
"We are proud of the agreement we were able to reach, though we still wish this administration had not forced us to strike to get some basic respect and dignity on the job," said SEIU 1021 SCUSD Chapter President Karla Faucett. "Classified staff keep our schools running, yet our work is so undervalued, including by this administration and school board. We are grateful for how the community, including parents, elected officials, and educators, rallied around us throughout the strike. We've finally raised awareness to the difficult conditions and low pay that the District's frontline workers have been enduring for many years."
The agreement, which must be approved by the SCUSD Board of Education, provides between $7-11,000 per employee in one-time stipends, depending on classification and certain eligibility requirements, as well as a 4% ongoing cost-of-living adjustment (COLA) retroactive to July 1, 2021; improvements to vision and dental plans; and, importantly, a class and compensation study that should help lift wages for some particularly underpaid classifications. There will be a wage reopener for the 2022-23 school year, which also gives a new opportunity to make improvements to pay. Many SCUSD classified workers barely make above minimum wage, even after decades of service, which has contributed to a staffing crisis that is preventing students from getting the education they deserve and making the workload untenable for the staff who have stayed.
"While we are glad that this agreement will be providing some much-needed and deserved financial relief, this is far from over," said Faucett. "One-time stipends definitely help in the short term, but this District can and must bring up the wages of its lowest-paid workers if it wants to make sure kids get to school on time, have hot meals, learn in clean facilities, and get the individual support they need. We look forward to upcoming opportunities through the class and compensation study and wage reopener to make working for this District sustainable for its current employees and attractive to new ones."
###
SEIU Local 1021 represents nearly 60,000 employees in local governments, non-profit agencies, health care programs, and schools throughout Northern California, including seven private colleges and numerous community colleges. SEIU Local 1021 is a diverse, member-driven organization with members who work to make our cities, schools, colleges, counties, and special districts safe and healthy places to live and raise our families.