Sac City Educators & School Workers Strike DAY THREE: Striking Educators & Staff Hit the Street
Today, Friday, March 25, beginning at 11am, Caesar Chavez Park, across from City Hall, teachers, school staff, parents, and community supporters to rally and march in downtown Sacramento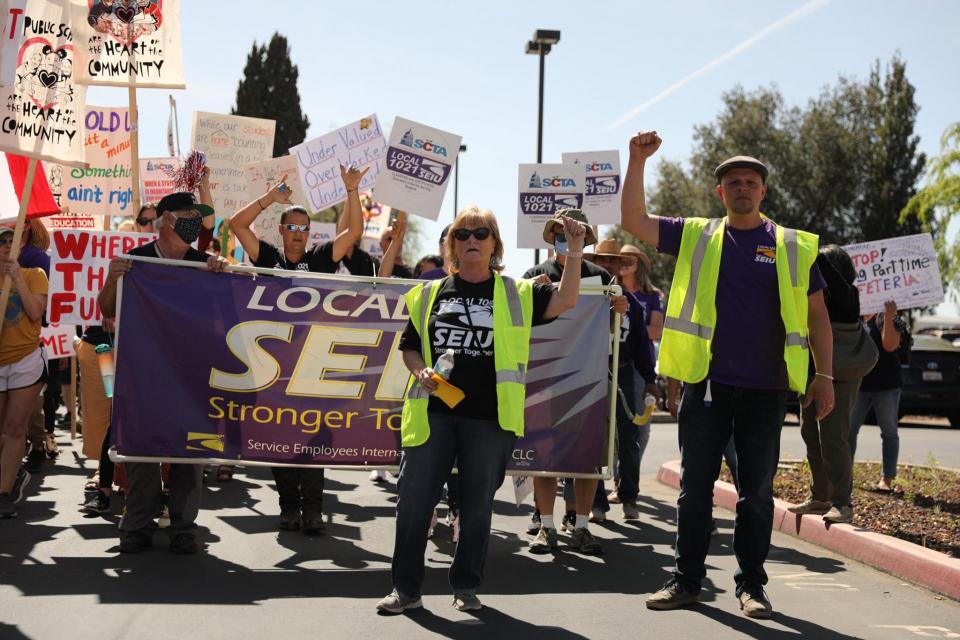 M E D I A A D V I S O R Y
Friday, March 25, 2022
Contact: SCTA Jamie Horwitz, 202-549-4921 (cell), jhdcpr@starpower.net
SEIU 1021: Jennie Smith-Camejo 510-710-0201, Jennie.Smith-Camejo@seiu1021.org
No talks scheduled between SCTA and district negotiators.
SACRAMENTO – A strike by 4,600 Sacramento teachers and other school workers, members of the Sacramento City Teachers Association and SEIU Local 1021, enters its third day Friday. No contract talks were held on Wednesday or Thursday and no talks have been scheduled.
Today, Friday, March 25, beginning at 11am, Caesar Chavez Park, across from City Hall, teachers, school staff, parents and community supporters will hold a rally and march in downtown Sacramento to demand action by a passive school board that has allowed the district's staffing crisis to spiral out of control.
"The SCUSD school board has been more focused on canceling school than negotiating ways to keep them open and staff them," said David Fisher, SCTA's president and a second grade teacher.
"The District has yet to come to the bargaining table with SEIU Local 1021. Instead, they've spent their time putting out press releases full of misinformation and attempts to distract the public from the real issue: Sacramento City Unified students are not getting the education they deserve due to a staffing crisis," said SEIU 1021 SCUSD Chapter President Karla Faucett, an 18-year District employee.
The school board and the administration that reports to the board have had no sense of urgency. The district refused to meet with the union the weekend before the strike date; the district's negotiators barely showed up for bargaining prior to the strike deadline; no talks have been scheduled with SCTA since the strike began; and the district's negotiators have refused to meet with representatives from SEIU Local 1021. SCUSD has informed the classified staff that they are unavailable for talks until March 30.
"SCUSD acknowledges they have a staffing crisis–but not their role in it. Other districts try to remedy short-staffing by improving pay and working conditions to retain and recruit staff. SCUSD is doing the opposite: demanding cuts to benefits and take-home pay, laying off workers, and replacing them with part-time positions ineligible for benefits," said Faucett. "A majority of the entire SCUSD workforce–classified staff, educators, and administrators—has declared no confidence in this superintendent and school board's leadership."
"Today we are marching through downtown streets," said Fisher. "But, if we don't see some serious movement at the bargaining table, watch for us to move our community outreach door-to-door among voters and parents in these board members' districts."
###

SEIU Local 1021 represents nearly 60,000 employees in local governments, non-profit agencies, health care programs, and schools throughout Northern California, including seven private colleges and numerous community colleges. SEIU Local 1021 is a diverse, member-driven organization with members who work to make our cities, schools, colleges, counties, and special districts safe and healthy places to live and raise our families.
The Sacramento City Teachers Association (SCTA) founded in 1921 represents 2,800 certificated educators, including K-12, special education, adult education and resource teachers; school nurses, librarians, psychologists, social workers, and including 600 substitute teachers. SCTA is affiliated with the 310,000-member California Teachers Association and the 3 million-member National Education Association (NEA).
For more information, visit www.sacteachers.org