Rest in power, Sin Yee Poon
SEIU 1021 remembers Sin Yee Poon, former chief elected officer, on her recent passing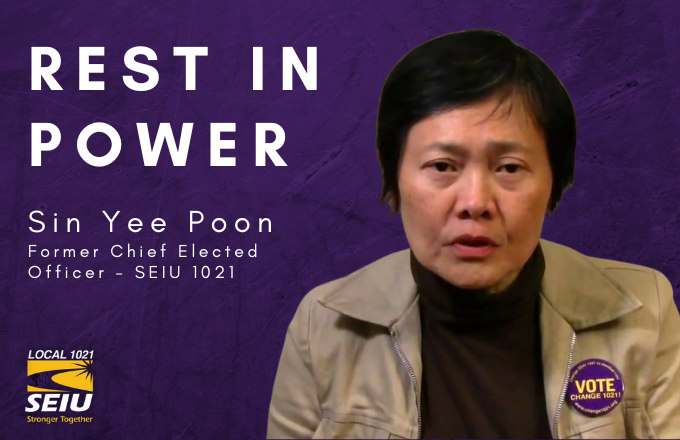 SEIU Local 1021 mourns the passing of Sin Yee Poon, the former chief elected officer, president of the City and County of San Francisco chapter, and bargaining team delegate. Beginning as a rank-and-file member leader from San Francisco's Human Services Agency, Sin Yee Poon never lost sight of who mattered the most: The membership.
"I was shocked and saddened by the unexpected death of this brilliant person, mentor, and friend," said Paul Camarillo, former treasurer of SEIU 1021. "Her passing certainly does give us pause to consider just how precious our family, friends, and ambitions are in this world, and it causes us to meaningfully prioritize and live the best life we can in the time we have."
Throughout her time in various leadership capacities in SEIU 1021, Poon fought to build coalitions inside and outside the labor union. A high priority of her work was ensuring that every member understood their contracts and how to effectively use worker power to win significant victories and positively change material conditions.
"Sin Yee was a staunch unionist, through and through," continued Camarillo, recalling his time working with her. "It was truly eye-opening to see how she led her chapter, the union, and the community through contract campaigns, special projects, and more. Sin Yee truly believed in the power of an enduring, good contract, member representation, and empowering workers to reach their highest potential. It was always about the members. She faced serious opposition from employers, but Sin Yee could hold her own. She was not a scared pigeon, never backed down from a fight, and always focused on the facts and getting to the truth. You see, it takes more than simply filling a vacancy or occupying a position of power or influence. It is about using that role given to you by the members to fight on behalf of the union and the labor movement. You must actively fill that role; lead by example. She taught us how to do it. Sin Yee is a true role model for member leadership. She is a mold, someone to be emulated. It is a loss for all of SEIU 1021 and the labor movement that she cannot continue to fight alongside workers. She will be greatly missed."
Funeral service arrangements for Sin Yee Poon will be held privately. The family understands that many are concerned about her passing and kindly requests that everyone respects their wishes for privacy.
Rest in power, Sin Yee Poon.