Peet's Coffee workers in north Davis vote to become the first unionized store in the United States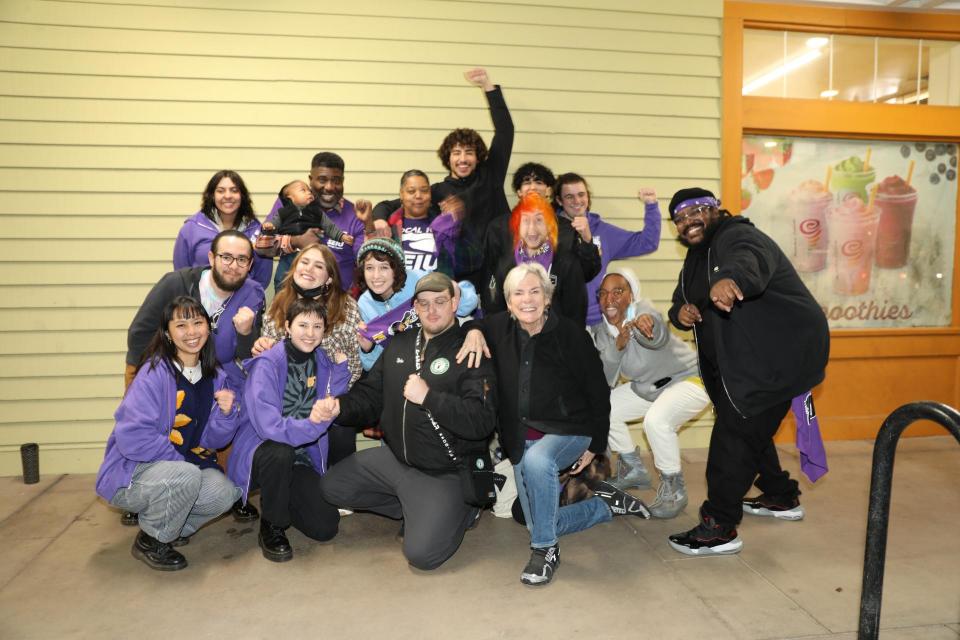 In a first for Peet's Coffee, workers at the North Davis location voted fourteen to one to unionize the coffeehouse with the Service Employees International Union Local 1021. The vote comes after nearly nine months of workers organizing with SEIU Local 1021 and Workers United, an SEIU affiliate organizing workers on the "Starbucks Workers United" campaign.
"This is the first time in my entire life that I feel I can stay in a job and be happy," said Trinity Salazar, a Peet's Coffee barista who has been working at the North Davis location since July 2022."We are all struggling, and we came together. Now, we're more united. We have every right to be able to say how much we're being paid, or at least negotiate it. If you're sick, you're sick. The company does not decide it. I don't want my body to be destroyed when I am twenty-one-years old. I'm literally twenty-one with back problems because of coffee."
One of the significant factors that led to the Peet's Coffee workers eventually organizing with SEIU Local 1021 was the chronic understaffing of the North Davis coffeehouse. "It's the norm in the coffee business to have bare-bones staffing," said Alyx Land, a shift lead at the North Davis Peet's Coffee. "Management puts the minimum amount of people they can get away with on the floor. Then we have to do a difficult job when we have a line out the door and mobile-order stickers down the counter. It's really exhausting."
Workplace stress at Peet's Coffee has also taken a toll on its workers. Workers like Land take pride in their work, and having a union allows workers to make a career out of working in the coffee roaster and retail industry."I'm excited at what unionizing could do for our entire industry. I want to see our work become more sustainable because I am passionate about what I do and want to keep doing what I do. However, I cannot realistically keep doing this without having more protections and a more sustainable workplace. So I'm really excited about that prospect."
The employees at Peet's Coffee work as baristas, team members, and retail shift leads. These Peet's Coffee workers contribute to the store's overall service and operations. Responsibilities include assignments in inventory control, daily operations, and merchandising, focusing on providing superior customer service, engaging with customers daily about products and promotions, and promptly preparing hand-crafted coffees, teas, and beverages.
"The victory at the North Davis location is only the beginning," said Brandon Dawkins, the Vice President of Organizing for SEIU Local 1021. "It will ignite a spark to unionize baristas around California. The nearly-unanimous vote is a testament to the workers who organized, fought back, and stood up to one of the country's largest corporations of coffeehouses and coffee-roasting services to exercise their right to form a union and jointly negotiate a collective bargaining agreement for a better workplace."
The election, overseen by the National Labor Relations Board, takes place against a backdrop of renewed union organizing, alongside regional victories like unionized Starbucks Corporation stores in San Francisco, Berkeley, and Santa Cruz, and national wins like Baltimore, Maryland's Apple Store, Amazon's Staten Island JFK8 Fulfillment Center warehouse, unionization victories for video-game workers at Activision Blizzard, Inc., and a recent agreement under which Microsoft Corporation has committed to remain neutral when employees express interest in joining a union.
Peet's Coffee workers at the North Davis location will continue their momentum with a rally scheduled for Saturday, January 28, 2023, in front of the coffeehouse.
Until Saturday, Peet's Coffee workers are requesting the community of Davis and Sacramento support their victory by coming into the coffeehouse, tipping, congratulating team members, ordering a drink, and giving the order name "Peet's Union Yes" or "Peet's Union Strong."
According to the Peet's Coffee store locator on the company's website, there are three-hundred-thirty-four stores across the United States and two-hundred-forty-two locations in California.
The newly won union chapter will next survey its members to understand their needs and elect a team of representatives to negotiate a contract with Peet's Coffee management.