OUSD Chapter Bargaining Update: We've Reached a Tentative Agreement!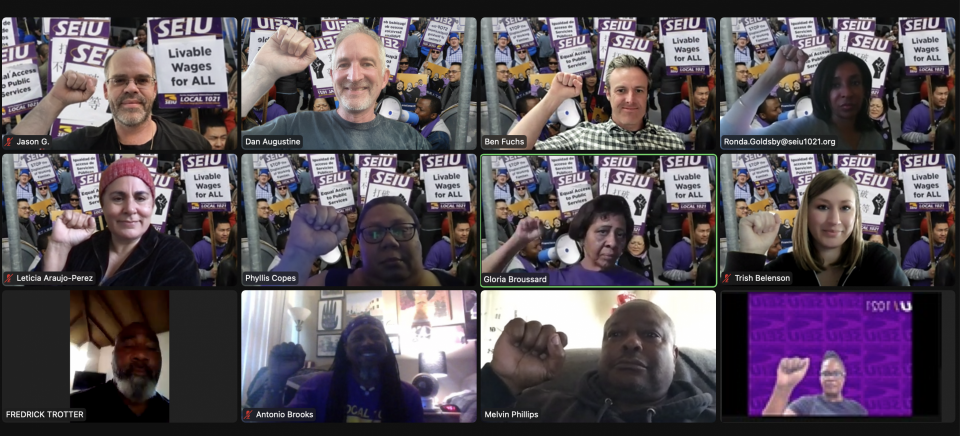 Despite the challenges of the current year–with all the extra workload and stressors that COVID has brought, struggling with school closures, impending layoffs, the threat of a state takeover, and economic inflation–your bargaining team has shined through unprecedented adversity and reached a tentative agreement with OUSD management.
Your bargaining team was committed to the negotiations process and sacrificed countless hours away from our families to fight for fair wages and improved working conditions for our members.
If it weren't for our members standing behind us and keeping up the fight, we would not have reached this deal.
This historic agreement includes:
Record wage increases
Longevity increases
Bilingual stipend increases
Clerical mentorship program stipend
Improved grievance timeline
COVID safety improvements
Many more intentional contract improvements
See the TA highlights below!
Aside from this agreement, your bargaining team has also secured three seats on the Climate Action Task Force, the first labor-management climate committee in the country!
Attending our bargaining team's TA presentation is imperative to understanding the details of your agreement. Please stay tuned for a presentation via Zoom for more information.
In solidarity,

SEIU 1021 Bargaining Team
Phyllis Copes, Donneva Reid, Gloria Broussard, Munera Mohsin, Melvin Phillips, Antonio Brooks, Trish Belenson, Leticia Araujo-Perez, Jason Gilbertson, Frederick Trotter, Dan Augustine, Ronda Goldsby (SEIU 1021 Field Rep), Ben Fuchs, Esq. (Chief Negotiator)

***General Membership Meeting Every 2nd Wednesday at 5pm on Zoom***

***CAT Meeting Every Tuesday (next meeting 3/1/22) at 5pm on Zoom***
TA Highlights
8.25% COLA increase over 2 years, 2 months
Thousands in one-time payments for every member, including part-timers:

6% of annual salary within 60 days of ratification;
$1,500 for all employees of 0.5 FTE or greater/$850 for all employees of 0.1-0.4 FTE;
$200 in lieu of additional stipend to reimburse for purchase of PPE (unrestricted); and
One day's paycheck in lieu of additional mental health day.

First climate crisis labor-management committee in the United States
5% COVID-19 hazard pay for dozens of classifications effective immediately, through June 30, 2022
Expanded COVID-19 safeguards through end of 2021-22 academic year
Accelerated path to top step for hundreds of workers
Significant additional increases for lowest-paid CDC workers via migration of all workers currently on lowest ranges (1-4) to Range 5 effective July 1, 2022
33.3% ($20) increase in monthly bilingual stipend, effective July 1, 2022.
Bilingual extended to the OCDPA-covered members for the first time. (Previously only applied to OSEA-covered members.)
Double-digit increases to longevity stipend throughout the scale, with the bottom step (year 10) increasing by 44% and the top step (year 35) increasing by 29%.
Restoration of Clerical Mentorship Stipend (up to $6,000/year for qualifying members)
Expansion of grievance filing deadline period by ~26%
Expanded training opportunities and access to critical student background documents for special-ed students for two classifications servicing these high-needs students (ISSs and IAs)
Expanded access to dedicated private, secured space for occupational and physical therapists to provide services to high-needs students without jeopardizing their privacy
New commitment to proactively scrutinize third-party funding sources to prevent or minimize layoffs
Commitment to jointly review union classifications for potential upward range adjustments between now and June 30, 2022
What can you do?
Join the Contract Action Team (CAT) to help distribute information regarding our contract. The next meeting will be next Tuesday, March 1, at 5pm. All members are welcome!

Email Ronda Goldsby (ronda.goldsby@seiu1021.org) and Sandra Lewis (sandra.lewis@seiu1021.org) for more information or to join.

Make a public comment or e-comment at the next Board meeting to demand the District not make school closures and layoffs to classified employees and student services.
Wear PURPLE every Wednesday to show OUSD management that SEIU members are unified. Attend SEIU events and actions to get a T-shirt.
Join our SEIU 1021 OUSD Facebook group to get the latest news, updates, and helpful information! Request to join here.
Check your personal email frequently for union correspondence updates.