Our Strike Continues Monday
Our bargaining team is waiting for counterproposals from SCUSD management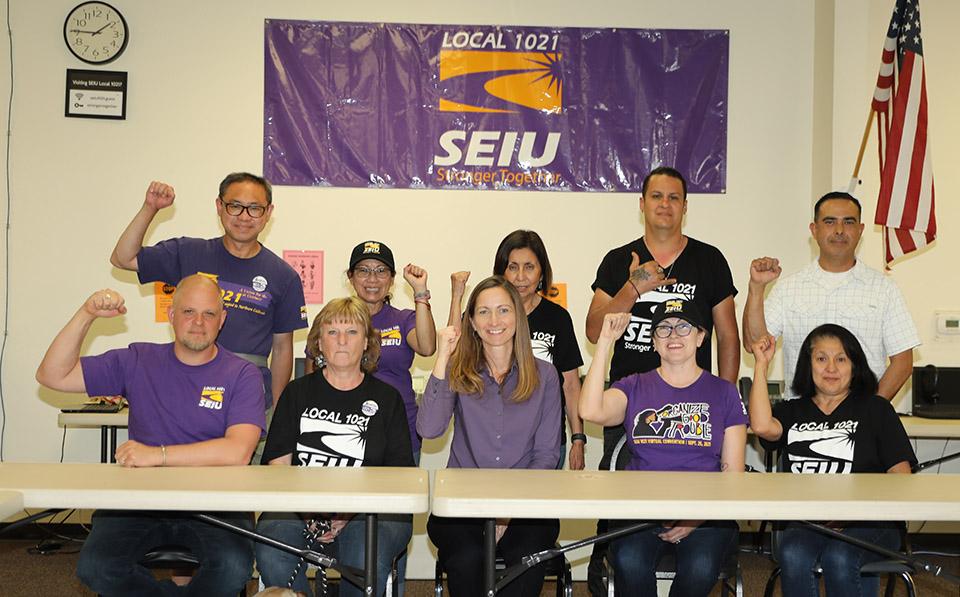 All SEIU 1021 members should report to the picket lines outside their worksite 45 minutes BEFORE the beginning of business Monday, March 28.

After a full day of pushing Sacramento City Unified School District to provide counterproposals to address the District's classified staffing crisis by retaining and recruiting workers to fill the 400 vacant classified positions, the SEIU 1021 bargaining team has requested that the District return to the table at 10am tomorrow morning.

We are eager to go back to work taking care of Sacramento City students. Right now, we are still waiting on the District to respond to our counterproposals. We have requested the District come to bargaining with us at 10am tomorrow, and we are ready to keep working until we have a fair deal that will help us retain and recruit the staff our students so desperately need.

We will continue to update you with any developments or changes.
Rally Monday
On Monday, a rally in support of striking classified staff and educators featuring famed civil rights and labor leader, Dolores Huerta, the co-founder of the United Farm Workers, is scheduled for 11 a.m. at Rosemount High School, 9594 Kiefer Blvd., Sacramento.

A note about the SEIU 1021 Strike Hardship Fund:

We understand that striking is a big sacrifice for our members, especially those of you who have already been struggling to get by. Our bargaining team has been working hard throughout the weekend to get the District to a fair agreement that values and honors our contributions to Sac City kids' educations with the goal of going back to work ASAP with a tentative agreement.

SEIU 1021 has a strike hardship fund that provides $20 per person, per day, for members who demonstrate financial hardship as a result of a strike in which they participated. Those funds can be matched one-to-one by chapter funds up to $50 a day, meeting certain conditions, for every day after the third day. The strike fund is not meant to replace wages but to provide some relief for members in need during a strike.

There will be an application process which we will provide information on shortly. You MUST show up to the picket lines and SIGN IN in order to be eligible for the strike fund.

Additionally, one of our local's allies has set up a GoFundMe strike fund for our members who were on the picket lines. Please share the GoFundMe widely and ask friends, neighbors, family, and anyone you know who might be able to chip in to support and share. Every donation helps, even just $5 or $10 at a time.

We will share more information in the next couple of days on the process to apply for hardship funds. In the meantime, please be sure to show up for your picket line duty and make sure to SIGN IN each and every time, as the hardship funds will only be available to members who have been on the picket line and have signed in. To ensure that the funds go where they are most needed, you will be asked to show hardship in order to be eligible for the funds as they become available.

Thank you for holding the line for our students, families, and all of SCUSD's hardworking staff. We are winning. Public opinion is on our side. We are confident that if we keep holding the line just a bit more and pushing hard, we will reach an agreement that finally addresses the District's staffing crisis and shows us the respect and dignity we deserve.

Click here to send an email to the school board and tell them that every student deserves a teacher and a fully-staffed school. Please share this widely and ask your family, friends, coworkers, and neighbors to send emails as well.