Our Joint Strike with SCTA Is Set to Begin Next Wednesday, March 23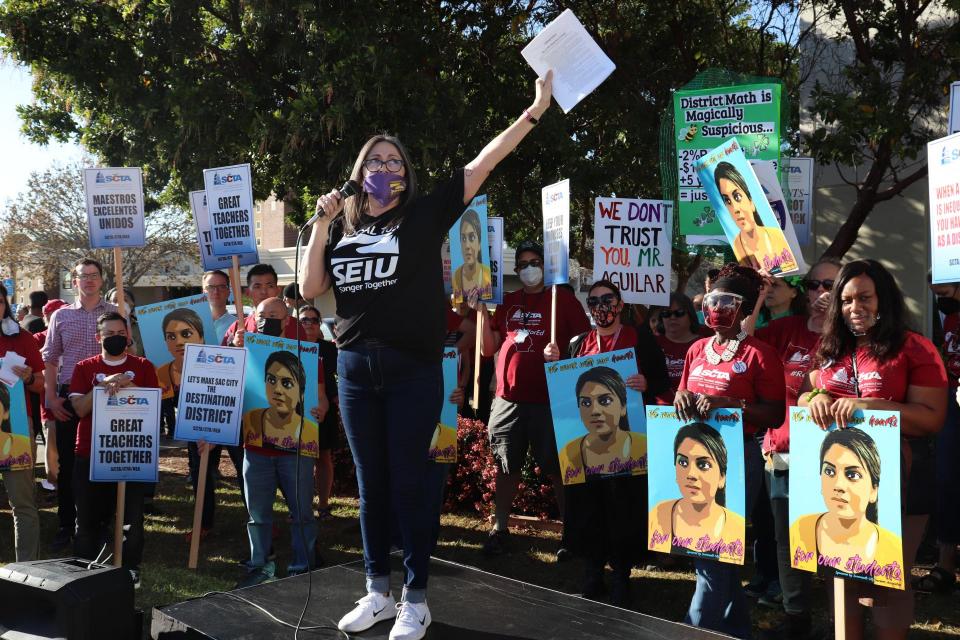 Big thanks to the hundreds of you who came out to our rally with our union sisters and brothers from SCTA at the school board yesterday. Between our two unions and a fantastic outpouring of support from parents, community members, and other Sacramento area union members, we had roughly 2,500 people in attendance. Wow! What a show of force! We are so strong together. Check out photos from the rally on Facebook here!

At the rally, SCTA announced a tentative strike start date of next Wednesday, March 23. This will also be the beginning of our unfair labor practice strike if District management chooses not to do the right thing and come to the bargaining table prepared to negotiate in good faith to address the staffing crisis and our health and safety on the job.

Please join us tomorrow, Saturday, March 19, at 10am on Zoom for a joint strike planning session with SCTA. Here is the link to join.

So far, the superintendent's response has been to demonize its own hardworking, committed staff–ourselves and the educators of SCTA–rather than taking responsibility for their own failure to use the District's superior financial position to ensure that our students have transportation to school, hot meals in the cafeterias, and teachers in every classroom. SCUSD parents and the Sacramento community aren't buying it. They stand with us and are demanding that the District prevent the strike by doing the right thing and negotiating in good faith.

Yesterday ahead of our rally, the school board held a press conference and claimed that financial constraints prevent them from increasing staffing. This is unacceptable. Our students deserve better, and so do we.

Click here to send an email to the school board and tell them that every student deserves a teacher and a fully-staffed school.

Click here or on the image below to see scenes from the rally yesterday, including our chapter president Karla Faucett explaining why we're fighting.