Oakland Unified School District Classified Staff Win Strong Tentative Agreement
After months of tough negotiations, SEIU 1021 members came out on top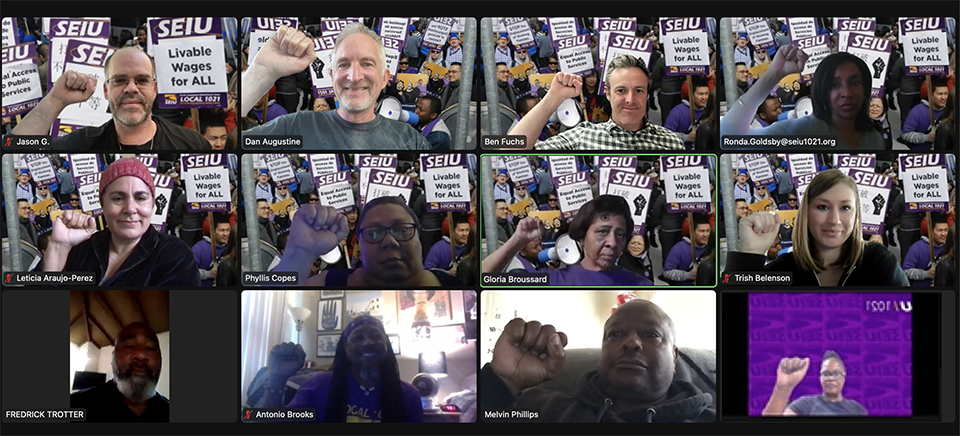 After months of negotiating, the SEIU 1021 Oakland Unified School District bargaining team has pushed through unprecedented adversity and reached a tentative agreement for a strong two-year contract with OUSD management. The TA is particularly notable given the challenges of the last year, including the extra workload and stressors that COVID has brought, talk of school closures, impending layoffs, the threat of a state takeover, and economic inflation.
The tentative agreement, which will go to a ratification vote of the membership later in March, includes:
8.25% in ongoing cost-of-living adjustments, including 6% the first year
Thousands in one-time payments for all members, including part-timers:

6% of annual salary within 60 days of ratification;

$1,500 for all employees of 0.5 FTE or greater/$850 for all employees of 0.1-0.4 FTE;

5% COVID-19 hazard pay for dozens of classifications effective immediately, through June 30, 2022;

$200 in lieu of additional stipend to reimburse for purchase of PPE (unrestricted); and

One day's paycheck in lieu of additional mental health day.

First climate crisis labor-management committee in the United States;

Expanded COVID-19 safeguards through end of 2021-22 academic year;

Accelerated path to top step for hundreds of workers;

and much more.
"This tentative agreement, if ratified, ensures OUSD's hardworking classified staff much-deserved raises, including both immediate one-time money and ongoing, pensionable raises," said OUSD Chapter Vice President Donneva Reid.
The successful conclusion of months of challenging contract negotiations will allow OUSD chapter members to focus more on fighting the closures of schools in Black and brown communities that the OUSD Board of Education voted on in February.
OUSD members who have not received information about the tentative agreement to their personal emails and/or cell phones via text message should update their contact information at this form ASAP to be sure to get updates about ratification dates and procedures, upcoming presentations and Q&A on the tentative agreement, opportunities to fight back against school closures and layoffs, and more.