Oakland Members and the Community Reject Mayor Schaaf's Cruel Cuts Amidst COVID-19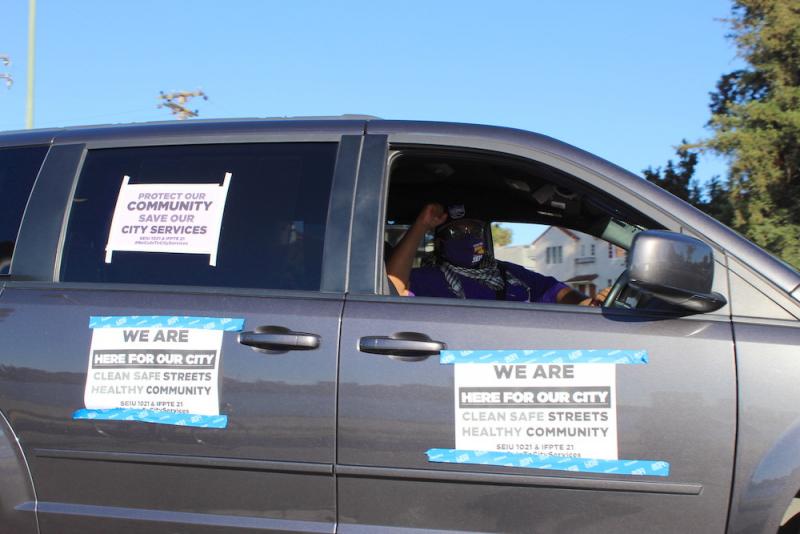 As Oakland's strength is being tested by the COVID-19 pandemic, Mayor Libby Schaaf has attacked city workers. First, she issued pre-emptive layoff notices to a thousand so-called "temporary, part-time" workers, many of whom have worked for Oakland for years. Then, she proposed weeks of furlough days and postponing wage increases. At the same time, she was busy appointing her cronies to high-paid positions in the City Administrator's office.
City of Oakland workers, together with IFPTE Local 21 members and community representatives from groups including ACCE Action, East Bay Alliance for a Sustainable Economy (EBASE), and Oakland Rising came together to protest the Mayor's cruel cuts in a creative, safe way that observed social distancing precautions by decorating their cars with posters and shirts and forming a car caravan to drive around Oakland's Lake Merritt on the evening of Tuesday, May 26.
Lina Hernandez, a temporary, part-time library worker, said "I'm a young parent in Oakland's sixth district, and I'm a proud Oaklander, and until recently, I was a proud Oakland city employee. But I have recently received a layoff notice. I'm one of the city's roughly one thousand 'temporary, part-time' workers. I've been with the city for four years. That doesn't feel temporary to me."
"Losing my hours at Oakland Public Library has made my life, my child's life, my partner's life, my entire family's life more difficult and stressful in this time of crisis," Lina continued. "The City MUST use its full complement of rainy-day funds, including the 49-million-dollar reserve that the Mayor refuses to talk about. Sitting on 49 million dollars while laid-off city workers are sitting at home trying to figure out where the next rent payment is coming from is simply cruel."
Nearly a hundred cars joined the caravan, showing that our members and the community are united in rejecting the Mayor's cruel cuts to services and attacks on union members. While the pandemic has hurt our community, particularly the poorest among us, who are overwhelmingly black and brown, we all stand together to protect good union jobs that deliver needed services to the public.