From Oakland to Martinez, East Bay working people are on the march against understaffing!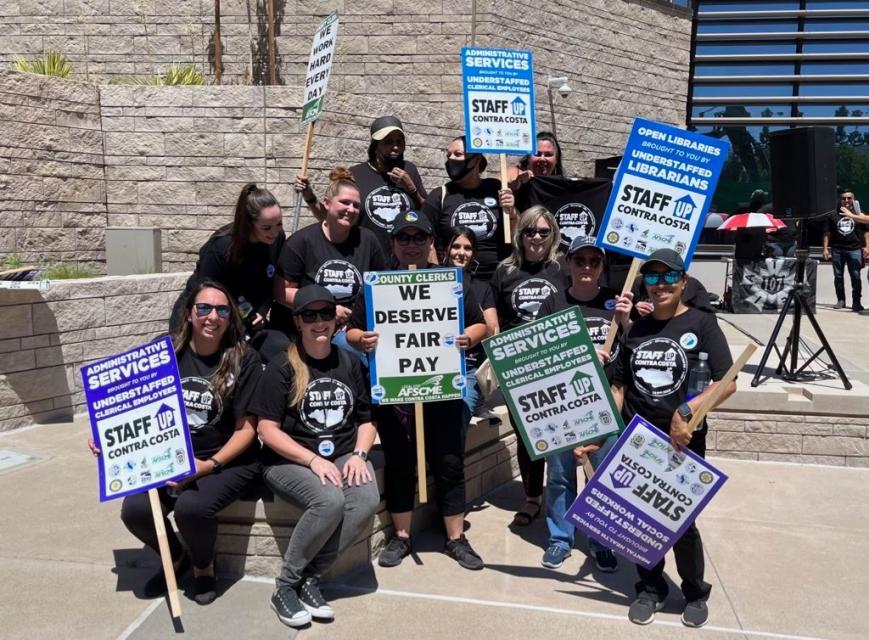 Last Tuesday, June 21, SEIU 1021 members joined a nine-union coalition to rally outside Contra Costa County's Board of Supervisors meeting to demand the supervisors take immediate action to fix a long-running understaffing crisis.
As the East Bay Times reported, "There were 1,964 vacancies among roughly 10,000 full-time positions in the county last year, a rate of about 20%," and "the biggest impact was to the health services department, which saw a 14% increase in vacancies from the year before as the COVID-19 pandemic stretched public health workers thin over long hours of physical and emotional stress." County workers have argued that the difficult work and comparatively low pay make it hard to hire new workers and keep them.
Uche Uzgebu-McGhee is a shop steward and social worker in Children and Family Services. At the rally, she said, "We've been assaulted, we've been overworked, we've been harassed, and still we've stayed. During COVID, a lot of us went out in person, to see children and families and keep them safe, and still, after contracting COVID, we came back to work, and we're still here! It is high time that the County pay us what we deserve so we can afford to live in the community we serve day in and day out!"
"I personally got COVID last year. I was pregnant, and I was still working. I had my baby at 29 weeks. He was in the NICU (newborn intensive care unit) for two and a half months and I came back to work, and even after that, still here; I stayed! There are many of you out there with countless stories of COVID and things happening to you and your family, and being harassed by your supervisors and managers for going out to care for those individuals. It is high time they started caring about us the way we care for our community. It is high time Contra Costa County staffs up, hires enough workers so that we don't feel overworked anymore, and pays us our fair share."
In Oakland, workers are seeing a similar pattern of overwork and disrespect from management, with more than 700 unfilled jobs. These empty positions means Oakland residents are not getting the services they expect and deserve, from clean, safe streets to beautiful parks and open libraries.
As SEIU 1021 City of Oakland Chapter President Felipe Cuevas told the Courthouse News when the City increased its budgeted vacancy rate to 8%, with actual vacancies higher than 20% in many departments, "That's less services they can provide. Building inspectors, fire inspectors — you name it, they're short staffed," he told them.
The article continued, "Cuevas added the city must address service workers' low pay: 'There's a number of classifications that are … 10-13% underpaid.'"
A coalition of working people will rally at Oakland's City Hall on Thursday, June 30, at noon to demand City Council settle a fair contract with the unions current bargaining, including CMEA, IBEW, IFPTE Local 21, and SEIU 1021.
RSVP at https://tinyurl.com/OakPicket.