"This nomination is a big deal!"
SEIU 1021 Members Speak Up in Favor of Ketanji Brown Jackson's Nomination for Supreme Court Justice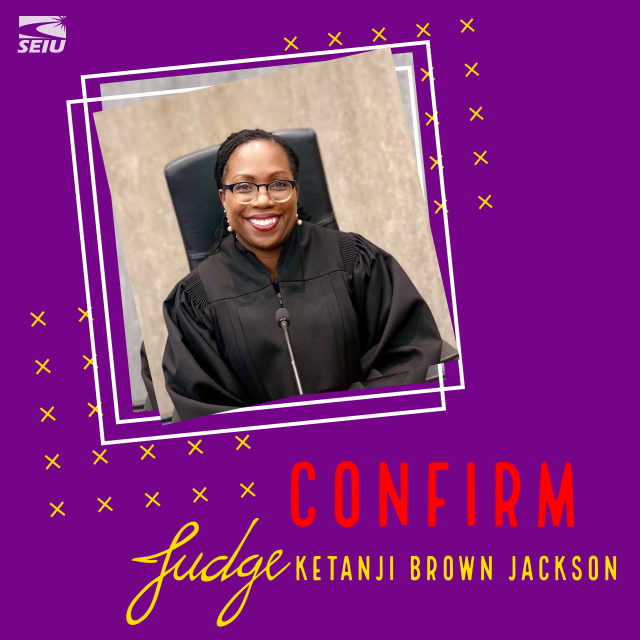 On Monday, April 4, the Senate Judiciary Committee began debating Ketanji Brown Jackson's nomination to our nation's highest court. This nomination is historic, as she is the first Black woman to be nominated, and the first person to be nominated who has worked as a public defender. When she was a student at Harvard, a relative of hers was sentenced to life in prison for a nonviolent offense, and she helped recruit a law firm to take on his case, which eventually led to the sentence being commuted. She has also been a powerful advocate for working people, backing federal workers' claims that employers must bargain with unions over workplace changes and making other rulings that advanced the causes of racial and economic justice.
SEIU President Mary Kay Henry said, "Judge Ketanji Brown Jackson's historic nomination is a win for working people, and her impressive legal background, stellar record and reputation for fairness will make her a strong asset to the Supreme Court."
Kasha Clarke is a courtroom clerk with the Superior Court of Alameda County. She said, "This is unheard of to have a public defender nominated to the Supreme Court. It gives some balance. To my knowledge, she doesn't have a huge record on labor issues, but the rulings she has made have usually been worker-friendly, including upholding an arbitration award for Unite Here Local 23, when the employer had refused to comply with the arbitrator's decision. That's important for us as working people and union members, because our contracts need to be able to go to arbitration, and that arbitration has to bind our employers. All in all, this is a history-making moment we all should consider a big deal!"
For the Supreme Court to protect the rights of every individual, it must have a diverse group of Justices that fully reflects and embodies the full diversity of our nation. With voting rights, reproductive right, immigrants' rights, and our right to unionize all at stake, a judge like Ketanji Brown Jackson is more important than ever to have on the Supreme Court. Judge Jackson's family exemplifies a true American success story: her parents went to segregated schools and experienced the Jim Crow South as kids, but through hard work, they went to and graduated from college and became public school teachers. Eventually, her father went on to earn a law degree too. And now their daughter can become the first Black woman to serve on the Supreme Court.