The Movement to Safely Re-Open Schools Progresses Forward with Vaccination Rollouts and Tentative Reopening Agreements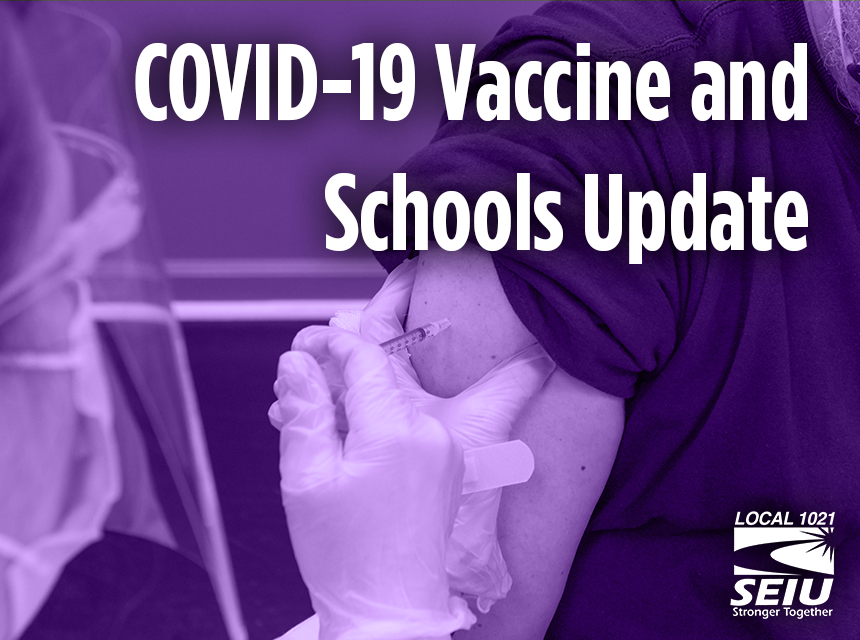 As the debate around returning to in-person learning in schools rages on, SEIU 1021 members and chapter leaders have been on the ground working with educators and communities in San Francisco, Oakland, and Sacramento to ensure our members and their families are protected.
The work we helped lead with the Unions of SFUSD led to a tentative agreement with the school district for baseline health and safety standards for students, educators, and families around sanitizing, PPE, testing, ventilation, and the current hot button topic — vaccinations.
Last week, the State of California and the Biden Administration announced that appointments for the COVID-19 vaccine were being made available at the Oakland Coliseum location to the 1B group which includes eligible workers in healthcare, emergency services, food, agriculture, education, childcare, classified workers, and individuals 65 and over.
"It is important that the schools are safe for students when they return and that we are properly prepared with health and safety protocols. Once we safely return to school we will see the smiles, the laughter, and joy of the children. We will see the appreciation for the bus drivers greeting our kids, the food service workers serving breakfasts and lunches, the custodians assisting with clean up, and the instructional aides working with the students. The vaccine's role is the beginning of returning to a life of normalcy," said Karla Faucett, SCUSD Chapter President.
SEIU 1021 is working with the SEIU California State Council, the State of California, and the Biden Administration to distribute any crucial information available to reach our members. While 80% of workers in schools have been on-site providing essential services since the pandemic hit, it is more important now than ever to assist with the vaccination rollout as much as possible to ensure our members and their families are protected.
While the California vaccination rollout process has not been perfect, we will continue to keep our members up to date on vaccination appointment availability via email and text. If you are eligible to get the vaccine, we encourage you to check the website https://myturn.ca.gov/ daily and as early in the morning as possible for available appointments. If you are unsure of your eligibility, view the helpful guide located here.
If you are a member who is not currently on the eligible list, you can be notified when it's your turn for the vaccine. Visit the California for All website and register for the vaccine eligibility notification at www.covid19.ca.gov/vaccines/.
APPOINTMENT SCHEDULING
SEIU 1021 members can access appointment openings and schedule online by visiting https://myturn.ca.gov/ or by calling 1-833-422-4255. No code needed.