Mendocino County Workers' Union Files Unfair Labor Practice Charge As County Management Breaks State Law by Continuing to Hide Vital Financial Information
The union has been requesting detailed budget information since November. County management has refused to share it as required by law.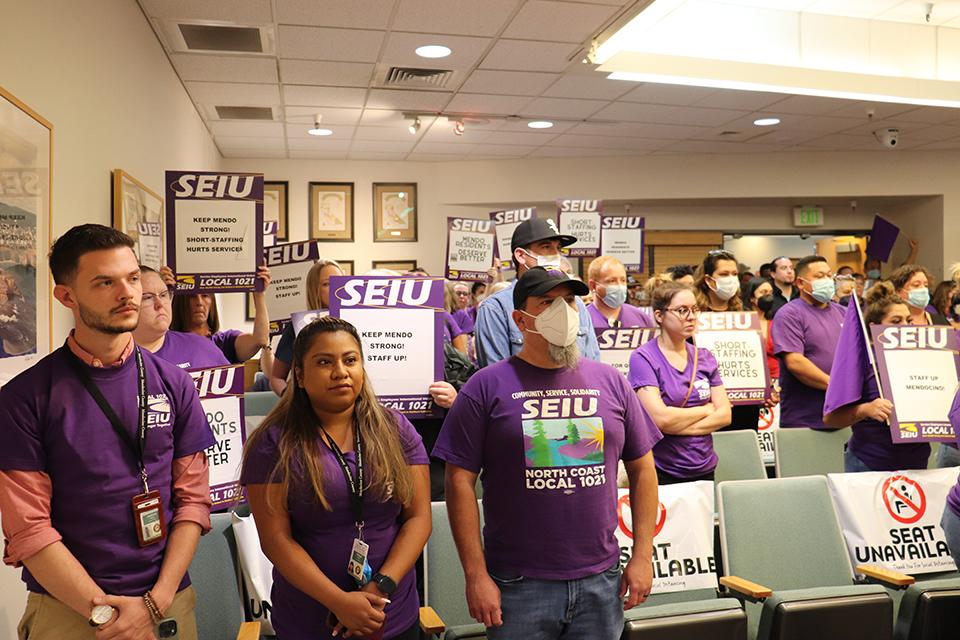 **FOR IMMEDIATE RELEASE 7/26/22**
Contact: Jennie Smith-Camejo, jennie.smith-camejo@seiu1021.org, (510) 710-0201
Last week, the union representing hundreds of Mendocino County employees, SEIU 1021, filed an unfair practice charge with the California Public Employment Relations Board (PERB) for violating state labor law by refusing to share information critical to current contract negotiations. The County claims, so far without evidence, that its financial position does not allow it to provide wage increases to employees, who are grossly underpaid relative to neighboring counties and who have been resigning in alarming numbers, endangering critical county services.
With vacancy rates averaging 20 percent but reaching 40 to 67 percent in certain classifications like social workers and mental health clinicians, drastic measures are needed to stanch the bleeding. County management continues to insist the county is unable to provide so much as a cost-of-living adjustment (COLA) to employees, yet has repeatedly failed or refused to provide budget information to back up their claims. One particular issue is information about how many vacant positions are included in the county's 2022-2023 fiscal year budget, and how many allocated positions are unfunded.
"This information is essential for us to have to understand the true economic picture of the county as we negotiate our new contract, as well as to identify places where savings could be found and allocated elsewhere," explained SEIU 1021 Mendocino County Chapter President Julie Beardsley, who is a senior public health analyst. "We want to work with the County, but it is possible the County may be including many vacant positions they have no intention of filling in the budget, in order to justify their claims that they cannot afford even a modest cost of living increase or equity adjustments to keep county workers from leaving."
The numbers being requested exist – the county board of supervisors examined them during closed session at the July 12 meeting where county workers filled the room to overflowing and spoke passionately about how short-staffing is affecting services, residents, and workers alike. Yet when the union requested once again to see them, county management again refused to provide the information, saying that their "finance expert" would explain it to the bargaining team in a presentation.
"The long delay in providing information feels very disrespectful to our employees who have come to work every day, often putting their own health on the line, during these past two years of the pandemic," said Beardsley. "The implication is that we couldn't possibly understand their numbers without them explaining them to us. But the only actual reason for them to refuse to give us the information outside the context of a formal presentation, is because they know that reasonable people who know as much about the way this county government works as we do would interpret the numbers differently from how they are choosing to explain them. We need the information to be able to make our own calculations and understand the county's actual financial position. If their interpretation is correct, what do they have to hide?"
###
SEIU Local 1021 represents nearly 60,000 employees in local governments, non-profit agencies, health care programs, and schools throughout Northern California, including seven private colleges and numerous community colleges. SEIU Local 1021 is a diverse, member-driven organization with members who work to make our cities, schools, colleges, counties, and special districts safe and healthy places to live and raise our families.