Mendocino County Workers Take To The Streets to Meet with Small Business Owners and Residents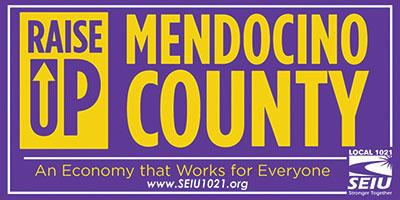 As part of their Raise Up Mendocino County contract campaign, Mendocino County workers are talking to local small business owners and residents about the need for the county to invest in public services and the dedicated workforce that provides these services.
"We need more county workers to meet public service needs. Throughout Mendocino County homelessness is growing, the opioid crisis is getting worse, and child abuse cases are being reported more regularly, and elderly patients have nowhere to go," said Troyle Tognoli, Mental Health Rehabilitation Specialist.
The county is the largest employer in our region, but substandard wages paid by the county has created problems in recruitment and retention which have led to a decline in services available to the county's residents. With stagnant wages, county workers have less to spend within the local economy, at local restaurants, cafes, or shops.
"In my household we are having a difficult time making ends meet. I don't go out to eat, I don't buy anything new. If we made a fair wage, I'd be happy to spend my earnings in stores and restaurants in our community. If we made a fair wage we would have the ability to support our community and local businesses would thrive," said Kat Ferrante, Mendocino County Program Specialist II in the HHSA.