Mendocino County Workers Ratify One-Year Contract with Plans to Hold County Accountable for Improved Process & Information Flow for Future Agreements
The new contract, which was approved by over 90% of voting members, includes a 2% cost-of-living adjustment and a one-time $3000 ARPA stipend, as well as larger improvements for certain severely understaffed classifications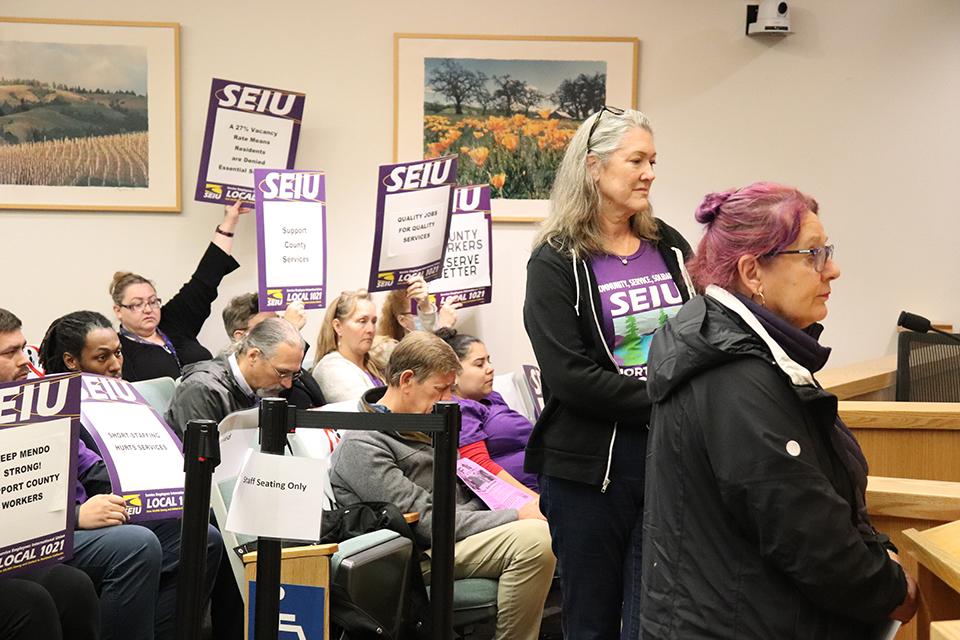 **FOR IMMEDIATE RELEASE 12/12/22**
Contact: Jennie Smith-Camejo, jennie.smith-camejo@seiu1021.org, (510) 710-0201
SEIU Local 1021 members working for Mendocino County voted by over 90% last week to approve a new one-year contract with the County after almost nine months of contentious negotiations, during which county administration and the Board of Supervisors claimed repeatedly not to know or understand what was available to them in the budget. This devolved into public finger-pointing among elected officials and past and current county administrators, even as a severe staffing crisis exacerbated by a housing shortage and skyrocketing inflation decimated public services from road maintenance to child protective services.
Members held multiple rallies and spoke out at numerous Board of Supervisors meeting about the need for improvements to address the staffing shortage.
"Our county workers have been stretched thin and have strained to keep up with the public demand and need for services throughout the pandemic. Yet they continued to come to work, often at risk to their own health. Because salaries are not at market level, we've seen many of our coworkers leave for better-paying positions with neighboring counties or in the private sector," said SEIU 1021 Mendocino County Chapter President Julie Beardsley, a senior public health analyst.
"We came to the negotiating table in April, hoping county administration would recognize our hard work and commitment. We hoped they understood how inflation and an unaffordable housing market was making it challenging to attract new employees and keep employees in critical positions. While the process this year has been challenging and disappointing, we are pleased that county administration finally agreed to a modest 2% cost-of-living adjustment (COLA), a stipend funded by federal ARPA funds the county received, and importantly, equity adjustments for severely understaffed classifications funded by state monies in the Department of Family and Children's Services as well as an increase to the county's minimum wage."
Under the new agreement, the County will absorb the increases in healthcare costs through the end of the contract – a critical compromise, as administration had initially demanded a much larger contribution from employees that would have completely eaten up the small COLA they agreed to as an exchange. Wages for social workers, social worker assistants, and social worker supervisors in the Department of Family and Children's Services, which are largely state-funded, will be receiving a 10% equity adjustment in recognition of the chronic short staffing that is endangering the county's most vulnerable residents. The county's minimum wage will also be raised to $17.42 per hour, with additional increases in other classifications to prevent wage compaction. Adjustments will be made to revenue-producing classifications as well, to ensure the county is not leaving tax revenue on the table due to short staffing.
"We look forward to going back to the negotiating table next year, once the County has finally closed its books on fiscal year '21-'22 and has a better grasp of its budget," said Beardsley. "In the meantime, we will continue holding the administration and the Board of Supervisors accountable both for understanding the county budget and for making sure to prioritize its workforce in that budget, rather than leaving it to the end as an afterthought. In a tight labor market, the county must provide competitive wages and solid benefits for our residents to get the public services they need and deserve."
###
SEIU Local 1021 represents nearly 60,000 employees in local governments, non-profit agencies, health care programs, and schools throughout Northern California, including seven private colleges and numerous community colleges. SEIU Local 1021 is a diverse, member-driven organization with members who work to make our cities, schools, colleges, counties, and special districts safe and healthy places to live and raise our families.