Meet Kristin Hardy, SEIU 1021's new Vice President of San Francisco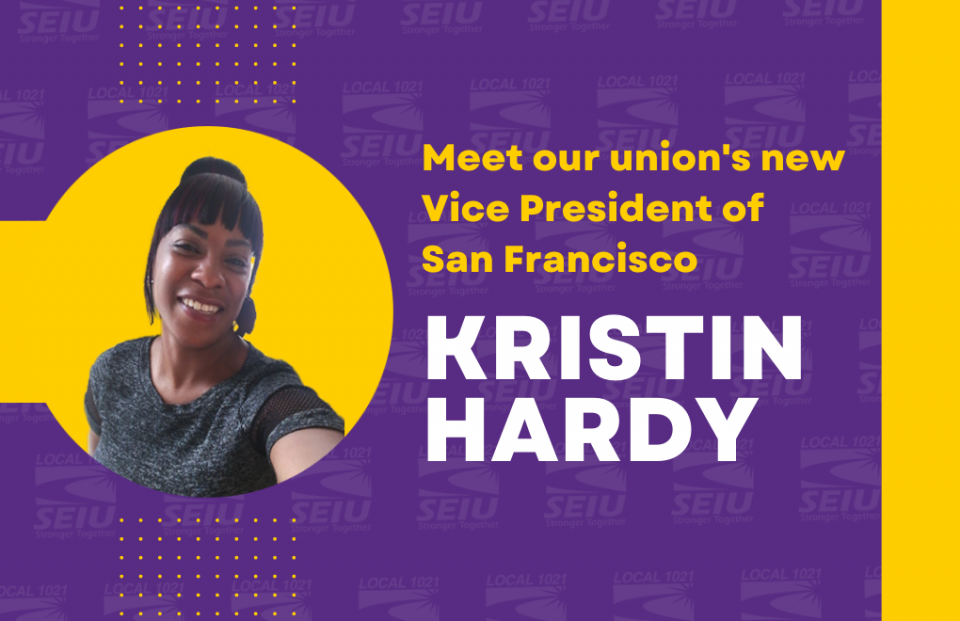 At the end of August, SEIU 1021's Executive Board appointed Kristin Hardy as the new Vice President of our union's San Francisco region after Theresa Rutherford, the region's previous VP, became our local's President. So who is Kristin and what is her vision for the San Francisco region?
Talking to Kristin, there are a few things you learn right away: she is a San Francisco native, a proud mother of two, and a die-hard 49ers fan. But by hearing her tell the story of her journey to becoming a City & County worker, a union activist, and eventually our union's VP of San Francisco, you begin to understand much more of what drives Kristin and informs her approach to our union's work.
Growing up, both of Kristin's parents worked in healthcare. The youngest of four, Kristin says she was fortunate to grow up in a city that valued diversity and a household that fostered her activism. Her father, a podiatrist and later a registered nurse, showed her how to be strong and fight for the things she believed in. Her mother, who was active in the social justice circles of the 1970s—including the hippie movement—fostered that activist spirit. "Since I was young, that social justice perspective and understanding that we need to fight injustice was always part of my life. It was instilled in me by my parents and helped me understand the importance of standing up for the people around me and the communities that I grew up in," Kristin recalls.
Kristin wasn't always a City & County worker. She worked at a nonprofit for a number of years before attending pre-apprenticeship school. That led to work as a member of Carpenters Union Local 22, where she was a member for a few years before becoming a mother. At that point, she decided she wanted to rebuild herself. Kristin went to City College and entered their Health Information Program to learn about medical records. Eventually, she took a part-time job as a Category 16 Health Worker II with the City and County of San Francisco before finishing her schooling and getting an externship at San Francisco General Hospital. She's been there ever since, going on 11 years now.
When outlining her vision for our union in the years to come, Kristin doesn't hesitate to share her top priorities: "I believe in the strength and power of relationships. We need to build bridges everywhere we can—member to member, with our allies in the labor council, and with our communities and allies across the City. I also want to tackle the big issues that so many members are facing now, like the vacancies and abuse of temp workers across the City. I also know our members in San Francisco's nonprofits are dealing with impossible working conditions. When I look out at the political landscape of my hometown, I see that we need to elect more pro-worker champions. There's so just much exciting work to be done."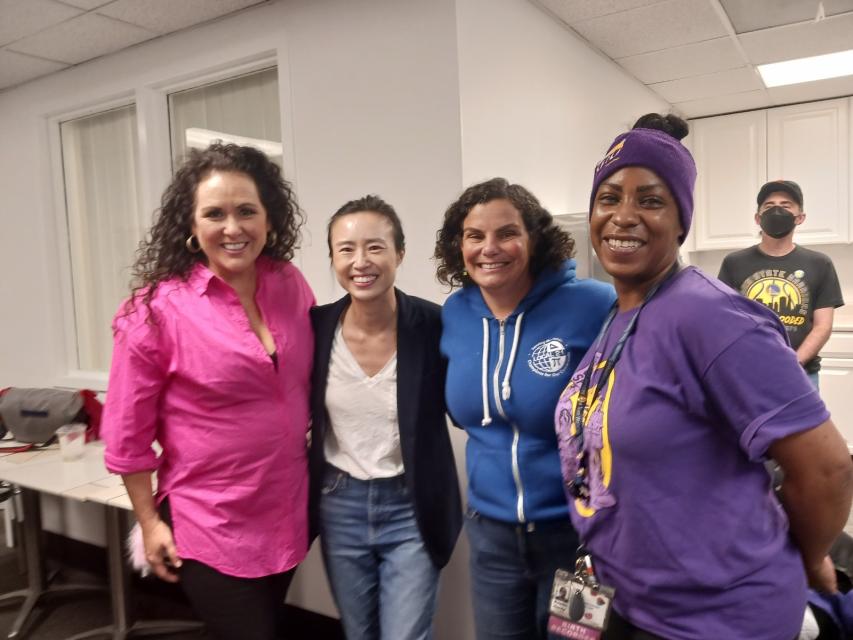 Kristin also knows the importance of mentorship and developing new leaders within our union. "I remember feeling so proud the first time I saw our union in action taking on a fight at work. I decided right away to start shadowing and learning from everyone I could—and I owe so much to people like David Canham, Karen Joubert, Brenda Barros, Ed Kinchley, Maria, and others," said Kristin. "They've all taught me so much about not being afraid to pick a fight with City leadership, never backing down, and standing up for my people."
Those experiences have also inspired Kristin to stress the importance of doing the same for future leaders. "I want to make sure that we're mentoring and developing new leaders in every corner of our union. Our job is to help people to understand that the door is open for them to get involved in the leadership of our union. It doesn't matter if you're a day one employee at a new job or a longtime member—there's space for you in our leadership," she said.
Kristin continued, "At the end of the day, our union is only as strong as our membership. We have our staff, as well as our allies in the community and in elected office, but this is a team effort and we all need to step up and make sure we maintain our strength in numbers. Sometimes that means fighting with management, and sometimes that means fighting alongside management, but whatever we do, we need to do it together."