Hundreds of City Workers plan to March Down Market St in Protest of Mayor's Refusal to Safely Staff City Services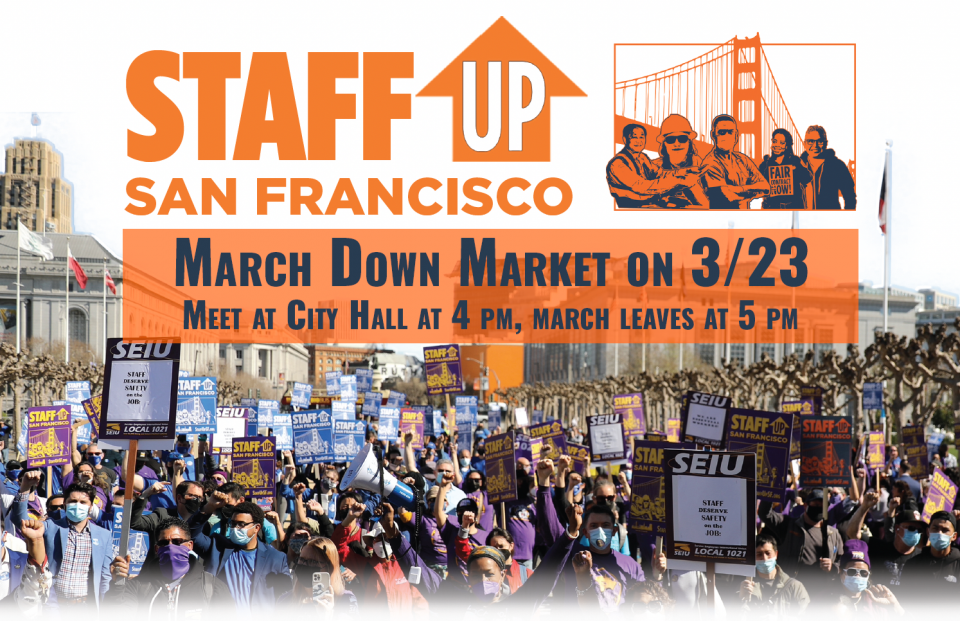 City workers are doubling down on their efforts to urge the Mayor to address San Francisco's staffing crisis, as hundreds of workers plan to march down Market Street on March 23. Earlier in the day, members of the Board of Supervisors will be holding a hearing to discuss the chronic short-staffing across the Department of Public Health that is impacting patient care and the ability of city residents to access services.
We will plan to start gathering at City Hall at 4 pm, and will start the rally and march around 5 pm.
In addition to the march and hearing, workers are releasing preliminary research that shows just how severe the city's staffing crisis is across key departments. City management has already admitted that there are over 3,800 vacancies citywide, a figure that represents roughly 10% of the total positions the city has budgeted for.
Vacancies have an undeniable impact on the quality and speedy delivery of services from City departments. It's no coincidence that some of the departments hardest hit by vacancies are also tasked with addressing some of our city's most pressing challenges, including:
Department of Public Works: vacancy rate 29.1%
Department of Homelessness and Supportive Housing: vacancy rate 27.7%
Department of the Environment: vacancy rate 24.2%
Department of Economics and Workforce Development: vacancy rate 20.8%
San Francisco International Airport: vacancy rate 18.5%
San Francisco Planning Department: vacancy rate 16%
"My team provides services to people living in supportive housing, all of whom have a history of homelessness. We help people access food and healthcare, do wellness checks when clients haven't been heard from, and much more. When we're this understaffed, it causes a significant reduction in the services we can provide. Short-staffing puts the people we serve at serious risk. Filling these vacancies and staffing our department will help us provide the services our clients need; without adequate staffing we can't provide enough support," said Leslie Kupper, a Behavioral Health Clinician with the Department of Homelessness & Supportive Housing.