HOLD THE LINE! District Management Still Refuses to Negotiate. Our Strike Continues.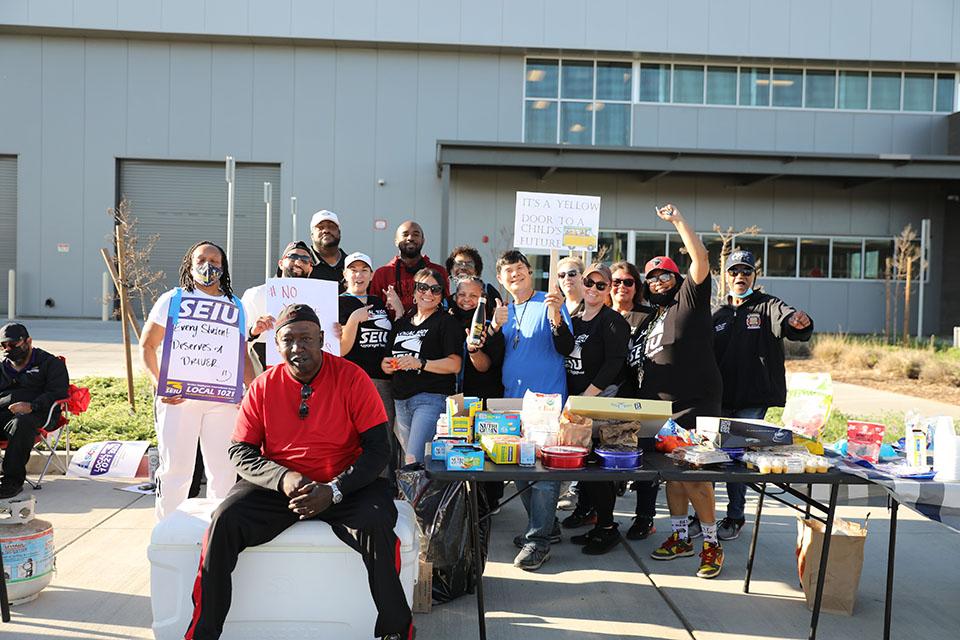 Thank you to everyone who has been holding the picket lines for the last two days, and who has come out to our powerful rallies with SCTA. United with parents, students, and other community members, we have come together by the thousands to deliver a resounding message too loud for Superintendent Aguilar and the school board to ignore.

Yet they continue to hold a double standard. They insist that wages that allow the District's lowest-paid workers to keep the lights on and feed their families are "unsustainable," yet see nothing wrong with giving the superintendent massive raises (5.6% COLA plus a 4% "longevity bonus" in this year alone–not to mention an additional $20,500 contribution to a second 401K, a new disability insurance benefit, and on and on). Where's the longevity bonus for our school bus drivers who have been getting our kids to and from school safely for 30 years but have never made more than $20 an hour? They insist on eliminating positions in nutrition services–and then replacing them with positions under the threshold to be eligible for benefits. So the hardworking people who make sure our kids get fed every day don't deserve to feed their own kids or take them to the doctor when they're sick?

To add insult to injury, they don't even have the guts to say it to our face or to put it in a proposal at the bargaining table. Even as they make disrespectful offers to SCTA in bargaining–who'd like to trade health care for a 2% raise?–they pretend like we don't even exist.

Because they continue to prioritize bloated administration over Sac City students and the committed staff and educators who bust our tails every single day to make sure they get the education they deserve, we will continue to hold the line. Our strike with our union sisters and brothers of SCTA continues tomorrow.

We understand that a strike is a sacrifice for our members. Unfortunately, when District management continues to disrespect us and refuses to listen to us at the bargaining table, we have to raise our voices and force them to hear us. Striking is how we show them the true value of our labor. See below for answers to some frequently asked questions about striking.

Click here to send an email to the school board and tell them that every student deserves a teacher and a fully-staffed school. Please share this widely and ask your family, friends, coworkers, and neighbors to send emails as well.
Strike FAQs
When does our strike begin and end?
If we and SCTA are unable to reach a fair agreement with SCUSD before the beginning of the workday tomorrow, our strike will continue. It will end when District management decides to come back to the negotiating table willing to reach a fair agreement that will address the staffing crisis by helping the District retain and recruit classified staff and educators. We know that this cannot be accomplished with the District's current proposals and demands for takeaways.
Please make sure to keep an eye on your personal email and texts for updates.
Please know that ALL SEIU classifications are striking for ALL shifts, regardless of which shift(s) you work.
What is a ULP strike, anyway?
A ULP strike, like the one we voted by 97% to authorize earlier this month, is a decision to withhold labor in response to unfair (and illegal) labor practices and is considered protected activity under state law.
Can I be legally disciplined or fired for participating in a ULP strike?
NO. ULP strikes are protected activity, and it is illegal to retaliate against you for participating. SEIU 1021 has a lot of experience with protecting workers who strike. Our experience has been that SEIU 1021 members don't get fired for striking. To be clear, if people do something that would normally be grounds for termination unrelated to the strike, their participation in the strike wouldn't protect them.
Do probationary employees have a right to strike?
Probationary employees have the same rights to strike and honor picket lines as permanent employees. It is illegal to discipline or terminate an employee because of union activity. Because probationary employees do not typically have access to the contract grievance procedure, the union would have to address any illegal discipline or intimidation through the Public Employment Relations Board (PERB). Please document and report to the union any intimidation that you may be subjected to by the District or its agents.
What about our contract's "no strike clause"?
Our last contract expired in 2020, so the "no strike" clause does not apply.
My supervisor wants to know if I will be coming to work when the strike happens. What should I do?
You don't have to tell your supervisor in advance if you plan to strike. You have the right not to be intimidated or interrogated about the strike.
Can I just call in sick or stay home?
No. Management is likely to be suspicious of a sick call on the day of a ULP strike. A strike is not a day off. It is a different kind of workday where we show up on the picket line - this is what we need to do in order to get a fair contract that addresses the staffing crisis.
We will win a better contract by showing our power with everyone on the picket lines. Strikes put public pressure on employers because the public realizes that things must be really wrong for workers to be willing to sacrifice their pay by taking the step to go on strike.
Wear your union T-shirt (or a purple shirt) and report to the picket line at your worksite.
If I strike, will I lose pay or benefits?
If you participate in the strike, you will not be paid for the time you are on strike. However, there will be no break in health benefits.
We have heard that certain supervisors are telling employees that they will be ineligible for the Friday/Monday incentive pay if they are on strike. It is our position that this is unfair retaliation–particularly since the District has chosen to close all schools during the strike–however, we cannot promise they will not try to deny the 100% attendance incentive pay to workers. (The other incentive pay portions of the MOU are completely unaffected by this strike.)
We will fight any attempt to refuse incentive pay to workers. Join us at picket lines to continue the fight for a fair contract and at the rally at Cesar Chavez Park–try to be there by 10am!
What about the students?
The students are why we're all here. Teacher strikes have driven the rise in strikes in recent years. The public school teachers who have struck are just like us—they wouldn't do it unless they thought their students would benefit in the long run. Like staff and teachers, our students have also suffered from the anti-worker practices and misplaced priorities of SCUSD.
Has SCUSD management proposed raises?
NO. In fact, SCUSD management has still not responded to the wage proposals we put on the table in October. They refused to negotiate with us over last weekend to try to avoid a strike. They have refused to bargain with us every single day this week. They have not even provided a single day they will be available for bargaining until March 30. Unfortunately, this is all typical of District management's bad-faith approach to these contract negotiations.
The proposal SCUSD management made to SCTA Monday, after meeting for one hour, offered a 2% raise that would be paid for by huge cuts to healthcare coverage, even though the neutral fact-finder concluded that the District should offer the same cost-of-living adjustments they are paying the superintendent this year (5.6%).
So far for classified staff, District management has proposed only takeaways–and not even at the negotiating table, but in school board meeting agendas and on their website.