Hayward Unified Schools Classified Staff Rally for Healthcare at School Board
Currently, HUSD staff receive no healthcare benefits – an untenable situation that is exacerbating a staffing crisis and causing significant hardship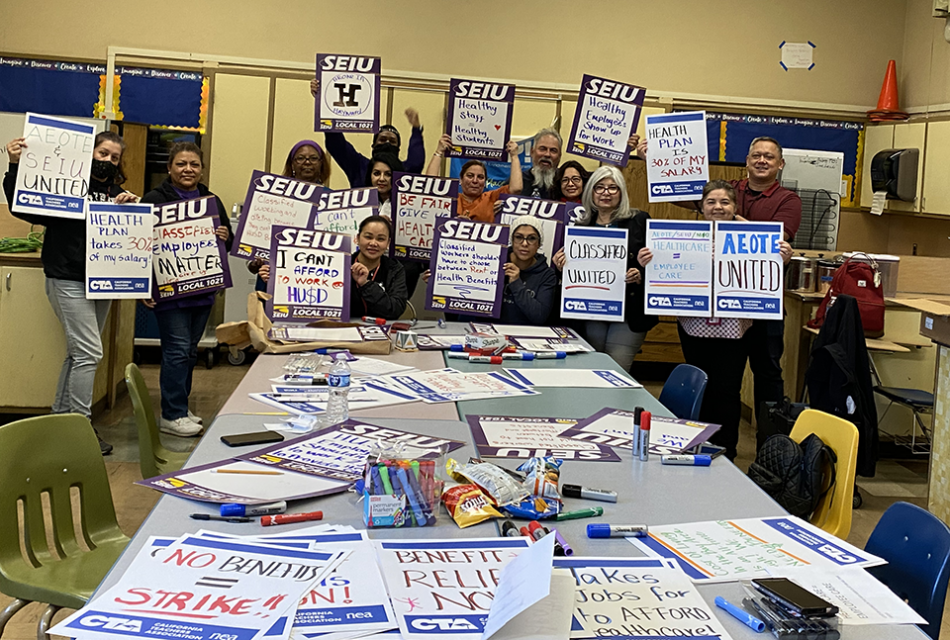 Contact: Jennie Smith-Camejo, jennie.smith-camejo@seiu1021.org, (510) 710-0201
Even after a multi-year pandemic that has claimed millions of lives and that shut down schools for many months, Hayward Unified School District (HUSD) staff still have no healthcare benefits. Purchasing the healthcare plan offered by the district costs employees between $850-1200 a month just for the employee alone, with family plans costing as much as $3120 a month. The situation has long caused hardship for classified staff; many of whom opt for cheaper private plans with subpar coverage and high deductibles. It is also damaging recruitment and retention, contributing to chronic short staffing that is endangering students and employees alike.
Frustrated classified staff, who are members of SEIU Local 1021 and Association of Educational Office and Technical Employees (AEOTE), will be rallying ahead of Wednesday's school board meeting to call attention to the need for healthcare benefits to compete in today's tight labor market.
What: Rally at HUSD school board meeting
When: Wed., Feb. 15, 5 PM
Where: HUSD Administration Building, 24411 Amador Street, Hayward, CA 94544
Who: HUSD classified staff (members of SEIU 1021 and AEOTE)
Visuals: School workers in union shirts marching, chanting with handmade signs
"I pay $1085 a month for the district's healthcare plan – and that's just for me alone," said SEIU 1021 HUSD Instructional Aide Chapter President Khadijah Abdul-Haqq. "A family plan would consume my entire paycheck. This is the reason only about five percent of all HUSD classified staff use the district's healthcare plan. It's completely unsustainable for employees and it makes it very hard to recruit and retain staff, meaning our schools don't have the personnel they need to take care of our most vulnerable students, keep our offices running smoothly, and keep up with the maintenance and cleanliness of our schools."
The average salary for a HUSD classified employee represented by SEIU 1021 – positions that include instructional aides, custodians, and maintenance workers – is $47,763. So if an employee earning that average salary purchases an individual healthcare plan through the district, their gross pay drops to $33,363 – $37,563. And if they purchase a family plan, their gross pay drops to $10,323 – $22,563. Those rates are clearly unsustainable in a housing market where the average rent is $2400 a month, leading many classified staff to take second or third jobs in order to cover their healthcare; to live as far away as Modesto to save on housing costs; and to leave the district for jobs that offer healthcare benefits.
###
SEIU Local 1021 represents nearly 60,000 employees in local governments, non-profit agencies, health care programs, and schools throughout Northern California, including seven private colleges and numerous community colleges. SEIU Local 1021 is a diverse, member-driven organization with members who work to make our cities, schools, colleges, counties, and special districts safe and healthy places to live and raise our families.