Green Lobby Day in Sacramento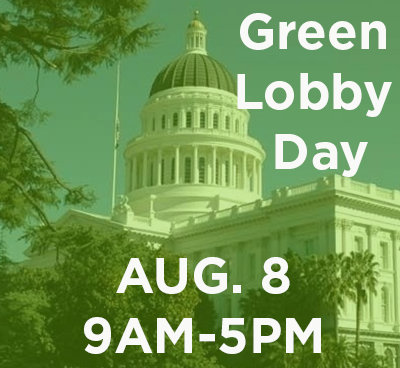 The 2018 Green California Advocacy Day will be held on Wednesday, August 8th from 9:00 am – 5:00 pm in Sacramento, followed by a celebratory awards reception from 5:00 – 7:00 pm. This is the environmental community's annual opportunity to come together and deliver a clear, compelling and consistent message about our priorities to legislators and their staff.

And this is where you come in — we will be fielding teams to meet with dozens of legislative offices on August 8 and our air, land, and water need your voice and powers of persuasion!
Advocacy Day participants will assemble at 9:00 am for a lobbying briefing and light breakfast at the Capitol Event Center, 1020 11th Street in Sacramento. Our first meetings are scheduled for 10:00 am; the last will begin at 4:30 pm. If you can't make it for the full day, you can sign up for either the morning or afternoon.

Please register no later than July 27. TO REGISTER FOR SEIU, email: ccalhoun@seiucal.org with GREEN LOBBY DAY in the Subject Line.