Equity adjustments for SF Citywide classifications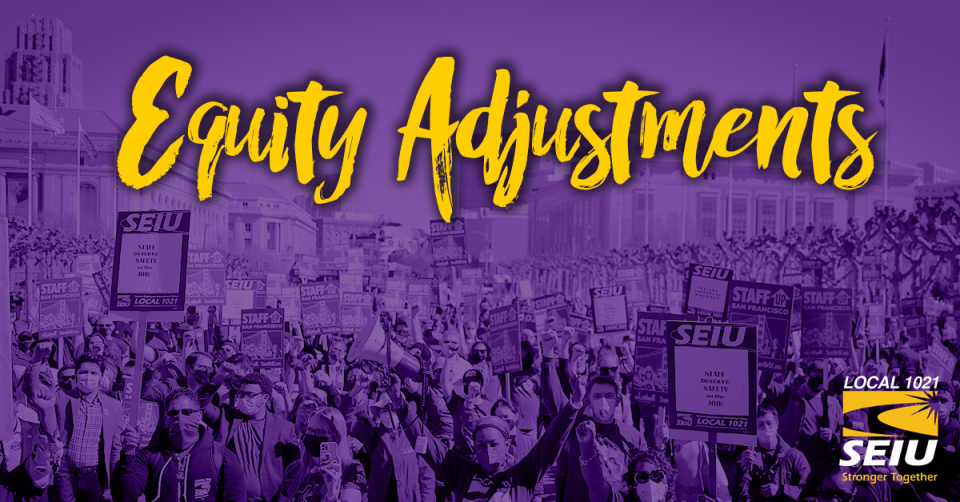 We are excited to announce that our SEIU 1021 San Francisco Citywide bargaining team has reached a tentative agreement (TA) with the City! Our TA includes significant progress on the priorities identified by members and will help recruit and retain staff to strengthen our public services.
In addition to our historic 10% wage increase over the two-year life of the contract, we also won a large number of equity adjustments for specific job classifications, which are listed below. For information about worksite meetings and the ratification vote, please visit www.seiu1021.org/ratification.
Classifications receiving equity raises
Dieticians (2622, 2624, and 2626) July 1 wage adjustment:

2622: 10.57%, 2624: 10.57%, 2626: 5.77%

Medical Evaluation Assistants (2430)

MEAs shall have the same 10 step range as 2303 PCAs and be placed in new steps. MEAs working in the ED shall receive a 5% premium.

Senior Morgue Attendant (2524)

2524 who were employed as 2522 during any part of FY21-22 shall receive one-time payment of $10,000.

Parking Meter Repair Supervisor (7243)

July 1 wage adjustment: 13.75%

Eligibility Worker Supervisor (2907)

Wage adjustment of current and future 2907s to be no lower than step 4.

Neuropsychologist (2574)

New classification created (2573) with pay range equivalent to 2575 Research Psychologist (~7.4% wage increase).

Animal Control Assistant Supervisor (3378)

July 1 wage adjustment: 11.50%

ASR Senior Office Specialist (4215)

12 months of service at Step 5 shall be eligible to receive Step 6 for all in classification

Senior Print Mail Machine Operation (1762)

July 1 wage adjustment: 5.25%
Classifications to receive an equity compensation study
To address recruitment and retention problems, compaction, and other disparities a classification study will be completed by January 1, 2024 for the following classifications:
1429 Nurses Staffing Assistant
1704 Communications Dispatcher I
1705 Communications Dispatcher II
2312 Licensed Vocational Nurse
2903 Hospital Eligibility Worker
2908 Senior Hospital Eligibility Worker
2904 Human Services Technician
2905 Human Services Agency Senior Eligibility Worker
2940 Protective Services Worker
2944 Protective Services Supervisor
7524 Institution Utility Worker
8141 Worker's Compensation Adjuster
8207 Building And Grounds Patrol Officer
Afterward, the union and the City will meet to discuss any potential compensation adjustments or classification adjustments.