On Election Day, Mendocino County workers to rally and flood Board of Supervisors meeting demanding accountability
Months of claiming ignorance about the budget and pointing fingers while the County's staffing crisis has spiraled out of control prove incompetence, malfeasance, or neglect – and county residents deserve to know where their tax dollars are going.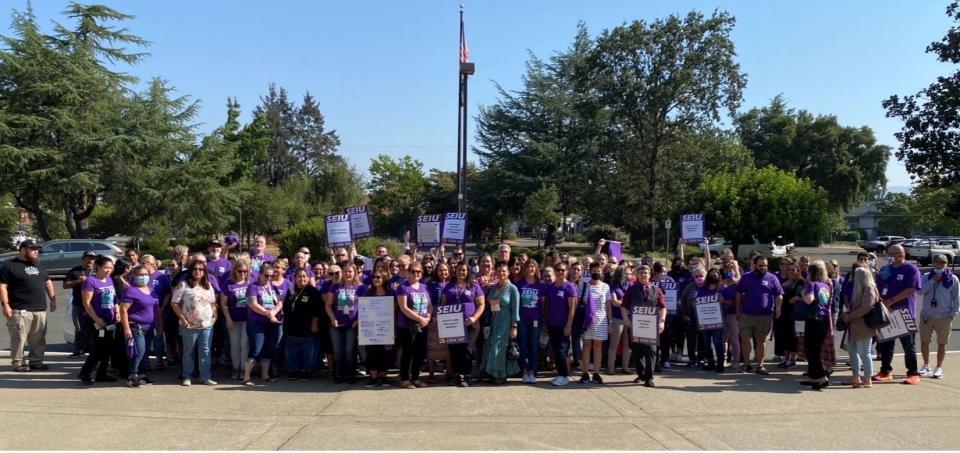 **MEDIA ADVISORY FOR TUES. 11/8**
Contact: Jennie Smith-Camejo, jennie.smith-camejo@seiu1021.org, (510) 710-0201
Election Day is a yearly opportunity to hold elected leaders accountable for delivering on their promises and governing effectively. While none of the current Mendocino County Supervisors is up for reelection this year, county workers are nevertheless planning to use the occasion to demand accountability. As provocative new digital ads gaining traction across social media illustrate, County CEO Darcie Antle has been asleep at the switch, failing to take action to address a staffing crisis that is putting the county's most vulnerable in harm's way or even to produce an accurate budget. County workers have a message for the board: Hold your administrators accountable, or we will make sure this is your last term in elected office.
County workers will rally outside the County Administration Building Tuesday morning, informing residents coming to vote or attend the Board of Supervisors meeting about how the board's and CEO's failures are hurting county residents. They will then flood the Board of Supervisors meeting and once again plead to the leaders elected to serve the county to do the most basic functions of their job: lead and manage their hired staff.
What: Rally and speak-out at Board of Supervisors meeting
Who: Mendocino County workers and community
When: Tues., Nov. 8, at 8:45 AM
Where: County Administration Building, 500 Low Gap Rd., Ukiah
Visuals: Large numbers of purple-clad workers marching, chanting, and speaking out in board meeting
"If our current supervisors were on the ballot in this election, I believe that they might have a hard time getting reelected, because they have been abdicating their responsibility to actually lead," said SEIU 1021 Mendocino County Chapter President Julie Beardsley, a senior public health analyst for the county. "In the meantime, growing numbers of county workers are voting with their feet and leaving for other employment. The consequences for the residents of this county are devastating. The vacancy rate in Family and Children's Services has crept over 40 percent and another six people have left in the past month. We have seen, here in Mendocino County as well as in other places, what can happen when we lack the social workers needed to protect our at-risk children. What will it take for our CEO and elected leaders to wake up? If they need an alarm, we've been sounding it for some time. If they need a splash of cold water to the face, we can do that too. What we cannot do is sit around and wait while abused and neglected children, seniors, people with disabilities, and low-income families suffer the consequences of their incompetence or cowardice."
###
SEIU Local 1021 represents nearly 60,000 employees in local governments, non-profit agencies, health care programs, and schools throughout Northern California, including seven private colleges and numerous community colleges. SEIU Local 1021 is a diverse, member-driven organization with members who work to make our cities, schools, colleges, counties, and special districts safe and healthy places to live and raise our families.