DAY TWO Sacramento City Schools Staff & Educators Strike: Strike Continues. No New Talks Scheduled.
Teachers, school staff, parents and community supporters to rally Thurs., 11 am, at the Sacramento County Office of Education (near Mather Field)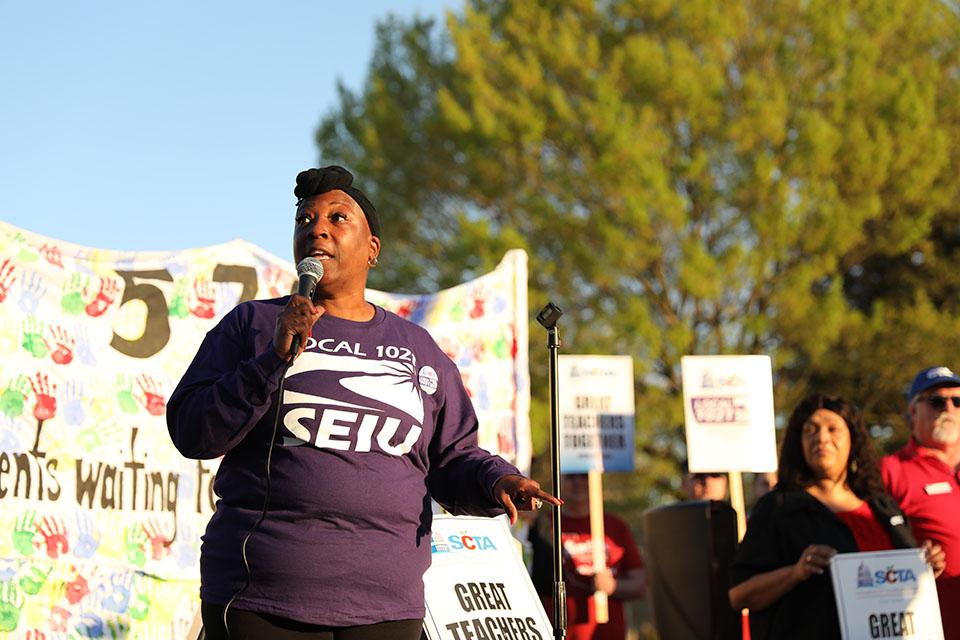 M E D I A A D V I S O R Y
Thursday, March 24, 2022
Contact: SCTA Jamie Horwitz, 202-549-4921 (cell), jhdcpr@starpower.net
SEIU Jennie Smith-Camejo 510-710-0201, Jennie.Smith-Camejo@seiu1021.org
SACRAMENTO –A strike by 4,600 Sacramento teachers and other school workers, members of the Sacramento City Teachers Association and SEIU Local 1021, enters its second day Thursday. No contract talks were held on Wednesday and no talks have been scheduled.
Today, Thursday, March 24, at 11 am, hundreds of Sac City teachers and school staff, joined by parents and community supporters, will hold a districtwide rally to demand that SCUSD's administration serve students' needs, address the growing staffing crisis, and bargain contracts in good faith. The rally will be held in front of the Sacramento County Office of Education (SCOE), located at 10474 Mather Blvd., in Mather, CA 95655.
The Sacramento City Teachers Association has been very clear about the steps necessary to move forward:
SCUSD should accept the neutral fact-finder's compromise recommendations. Last week a fact-finder chosen by both parties under the auspices of the California Public Employment Relations Board released his compromise recommendations that largely accepted SCTA solutions to address the staffing crisis: "It is counter-intuitive to expect that proposals to shift health costs to employees, or to freeze wages for several years, would help any employer recruit and retain staff." SCUSD's negotiators had made a written commitment to "follow the Fact-Finding Panel Chair's recommendation to the maximum extent possible," while simultaneously dissenting with the compromise report and continue to demand concessions inconsistent with the report.
The district should accept the mediator's recommendation to extend the contract through at least June 30, 2023.
SCUSD must eliminate the outrageous demand that teachers pay as much as $12,000 per year out-of-pocket to keep their current health insurance.
The district should agree to a fair salary adjustment that addresses inflation. Maintaining wages that are competitive and keep up with the current rate of inflation, the highest in four decades, directly affects the district's ability to recruit and retain teachers and staff.
At the same time, the district has also refused to meet with SEIU Local 1021 and has not scheduled a meeting with the classified staff until March 30.
"Our bus drivers, the first people the kids see in the morning, have been depleted by over 50%," said SEIU 1021 SCUSD Chapter President Karla Faucett at today's rally. "We have instructional aides having to help write curricula because we're so short-staffed on teachers. We have kids smashed in gymnasiums, supposedly getting a quality education. We have custodians who cannot get the schools clean. Where we used to have 16 at a site, we now have two or three. And now they're asking them to cross over to other school sites. As for bargaining, we've been at the table since October. And the district has made not one proposal for classified staff. Not one. We've been ready to go to the table 24 hours a day. We have requested the District bargain with us since Friday, and their response was, 'We'll see you on the 30th.' We cannot continue this. We want them to come to the table."
"The SCUSD school board has no sense of urgency," said David Fisher, SCTA's president and a second grade teacher. "The district didn't meet with us last weekend, they barely showed up on Monday. And since the strike began, they have been missing in action."
Money shouldn't be an issue. SCUSD has received an infusion of $320 million in covid-related federal and state dollars. The district now receives over $20,000 per student per year and has a record reserve fund of $123 million dollars.
###

SEIU Local 1021 represents nearly 60,000 employees in local governments, non-profit agencies, health care programs, and schools throughout Northern California, including seven private colleges and numerous community colleges. SEIU Local 1021 is a diverse, member-driven organization with members who work to make our cities, schools, colleges, counties, and special districts safe and healthy places to live and raise our families.
The Sacramento City Teachers Association (SCTA) founded in 1921 represents 2,800 certificated educators, including K-12, special education, adult education and resource teachers; school nurses, librarians, psychologists, social workers, and including 600 substitute teachers. SCTA is affiliated with the 310,000-member California Teachers Association and the 3 million-member National Education Association (NEA). For more information, visit www.sacteachers.org