Contra Costa County Eligibility Workers Hold Management Accountable and Fight Off Working Out of Classification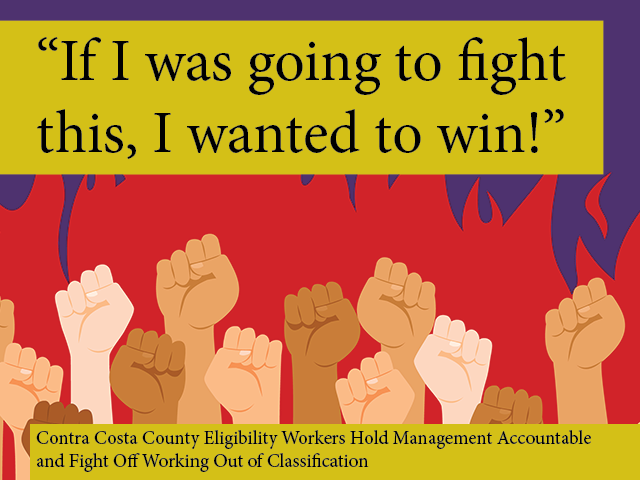 Jamie Jacobs is an Eligibility Worker in Contra Costa County, helping aged and disabled clients who need in-home supportive services. Her unit had always been single-program workers, but in December of 2019, management started assigning new cases that required the workers to add new programs to their caseloads, including CalFresh for the first time.
Other units who handled multiple programs were being paid substantially more, and the workers quickly saw that this was a typical management attempt to change working conditions and assignments, and that this small unit was a test case for what the County wanted to make everyone do. "Management kept trying to say that our job descriptions allowed us to do more than one program, but historically this had never been the case, and we have won on this same example twice already. I kept wondering 'Why are we doing this for a third time?'"
Because Jacobs had always kept detailed notes, she was able to help file grievances and take part in the meet and confer process, mediation, and arbitration. The County repeatedly pushed back the first two arbitration dates all the way to late August 2021, and then didn't schedule the third date until October of 2021. Jacobs said, "It was just making me more angry. I tried to provide as much information as I could gather, because if I was going to fight this, I wanted to win. I knew they were looking at us to see if they could then do this to the other 300 eligibility workers in the County. They started to, but they had to back off. I'm really hoping our win will affect more than just our two units."
Jamie says that the victory feels amazing but still wishes that the County would do right by workers without there needing to be a fight.
"It was heartbreaking and disappointing to sit through three days of arbitration and be told by upper management that you don't do all the work that you say you do. I enjoy helping the clients I help, the aged and disabled. It's sad to see people struggling, and you want to do everything you can do for them. It's frustrating: Can't the County just do the right thing for once? We're public servants, and we're dealing with people who need these services, but you won't give your staff what they need. I hope this trickles down," Jamie said. "I feel good about what I did. I fought hard, I gave as much information as I could, and we won, which was an amazing feeling. Hopefully things get ironed out and our unit goes back the way it was prior to this whole mess. If this helps the other eligibility workers in the County, then I feel great about it."