Coffee tastes better when its unionized: Peet's Coffee workers hold rally after winning first union vote in North America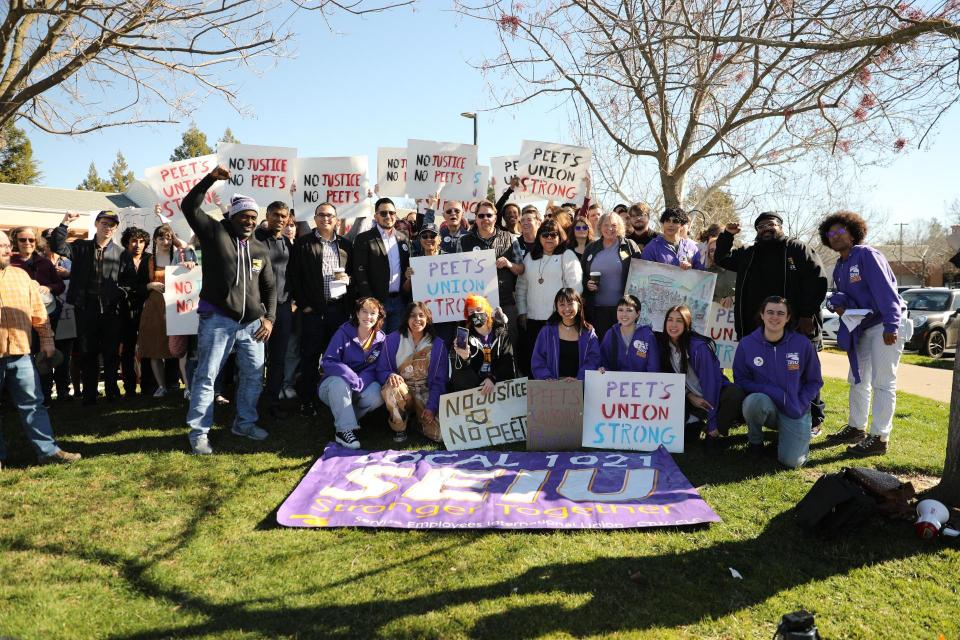 After voting fourteen to one to become the first unionized Peet's Coffee location in the United States, Peet's Coffee workers, now members of the Service Employees International Union Local 1021, held a rally on Saturday, January 28, 2023, in front of the coffeehouse in North Davis. The vote comes after nearly nine months of workers organizing with SEIU Local 1021 and Workers United, an SEIU affiliate organizing workers on the "Starbucks Workers United" campaign.
"The issues just added up, and it got worse," said Ravid Tal, a shift lead at the North Davis Peet's Coffee location, explaining the reasoning behind forming a union at Peet's Coffee. "Eventually, it got to the point where we realized, 'If this isn't going to go away, if corporate is not going to take care of this, then we're going to have to take care of this.' I've used the metaphor of being pushed into a corner. In many ways, that's how it felt: unionizing was our way out, our way of making change and getting ourselves outside of that corner. We unionize because we love our job. The easier thing is to quit and find a new job, but we truly love our work. I love the interactions I have with customers every day. I love meeting new people. I love the most random conversations I have while making a latte for someone. It could be the most random thing, and yet it ends up being the highlight of my day."
Peet's Coffee workers request the community of Davis and Sacramento's support for their victory by coming into the coffeehouse, tipping, congratulating team members, ordering a drink, and giving the order name "Peet's Union Yes" or "Peet's Union Strong."
"The subtext to any anti-union movement is, 'Do you trust corporate, or do you trust this third party?'" asked Tal. "We have had Eric Lauterbach, the president of Peet's Coffee, come to our store. We also had the heads of retail and human resources all come in and ask us to give them another chance. I think that is bullshit because every day until the day we filed was a day for management to have another chance. They have had a chance to prove themselves. They have had a chance to make a change. They have had a chance to do something good every day."
The employees at Peet's Coffee work as baristas, team members, and retail shift leads. These Peet's Coffee workers contribute to the store's overall service and operations. Responsibilities include assignments in inventory control, daily operations, and merchandising, focusing on providing superior customer service, engaging with customers daily about products and promotions, and promptly preparing hand-crafted coffees, teas, and beverages.
"It's not just in the food-service industry, it's in railroads, it's in nursing, and it is within so many different communities," expressed Trinity Salazar, a Peet's Coffee barista who has been working at the North Davis location since July 2022. "We all face issues from the top because corporations want more money and more power over us. Movements create change. It's small, it's little, but it has to start somewhere. I hope people see past coffee and see that we have power."
According to the Peet's Coffee store locator on the company's website, there are three-hundred-thirty-four stores across the United States and two-hundred-forty-two locations in California.
The newly-won union chapter will next survey its members to understand their needs and elect a team of representatives to negotiate a contract with Peet's Coffee management.