City College of San Francisco Left in Disarray After Administration Lays Off Over 40 Classified Staff, Reneging on Agreed-Upon Framework
Incredibly poor communication around the layoffs has added to the damage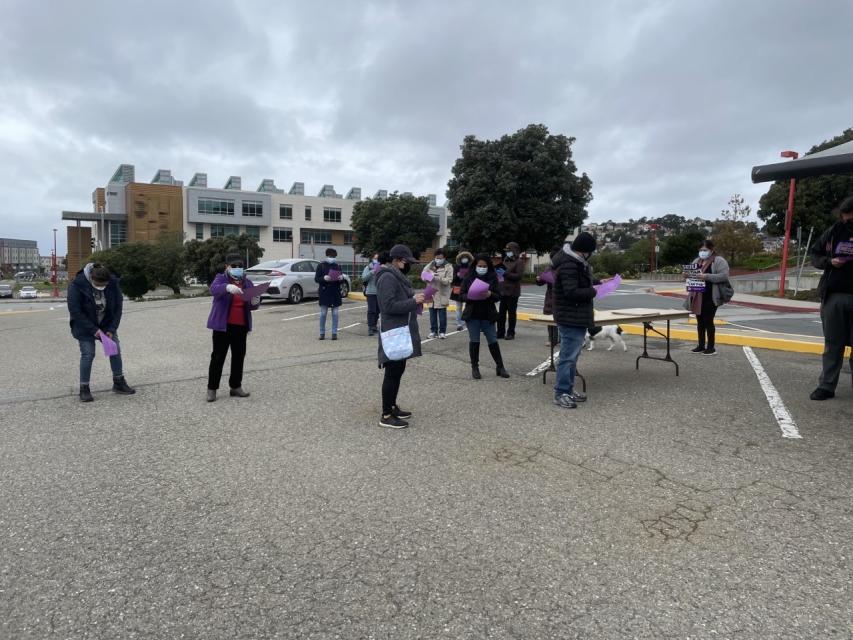 **FOR IMMEDIATE RELEASE 1/7/22**
Contact: Jennie Smith-Camejo, jennie.smith-camejo@seiu1021.org, 510.710.0201
San Francisco: City College of San Francisco (CCSF) students starting spring semester January 18 will be coming back to a dirtier, less organized, and less functional campus, following the layoffs of over 40 classified staff–most of them people of color and/or women. CCSF employees participated in a rally on campus Monday, January 3, to protest the unnecessary and unjustified layoffs that just weeks ago the college was ready to back away from.
"David Martin, our new chancellor, has imposed the layoffs," said SEIU 1021 CCSF Chapter President Athena Steff at the rally, before reading off a list of the names of the individuals being laid off. "Everyone has a name and has a life, Chancellor. There are human beings attached to your decisions. It will deeply impact City College students and our mission."
Last month, just days after the chief negotiator for San Francisco Community College District and the contract negotiations team for City College of San Francisco (CCSF) classified staff, members of SEIU Local 1021, agreed on a framework to identify cost savings to avoid layoffs, the District changed its position. New Chancellor David Martin imposed the layoffs after refusing to provide the union the information needed to conduct fair negotiations, as detailed in a Public Employee Relations Board (PERB) charge against the District.
Complicating Martin's claim that the layoffs were necessary, several new employees, including at least two new classified staff, have been added to the payroll this week, even as dozens have received pink slips–in the same class and division as some of those layoffs. SEIU 1021 also has serious concerns about such crucial decisions being made based on budget numbers presented by CCSF Vice Chancellor of Finance and Administration Dr. John al-Amin, whose history of refusing to be transparent, providing inaccurate information, and displaying unprofessional conduct, including misogynistic language, in a previous position at Los Angeles City College were brought to the attention of the Board of Trustees last year in a letter from the former chapter president of the Los Angeles College Faculty Guild.
Further, Martin's administration has failed to communicate effectively with department chairs and supervisors about who was being laid off and how these layoffs would impact their departments and programs, leading to disarray and confusion. Laid off employees have also been given confusing and inaccurate information about their health benefits and exit plans. Since the CCSF Board of Trustees fired the head of human resources last week, it remains unclear how these matters can be resolved expeditiously.
CCSF classified staff have made sacrifices for years to help alleviate CCSF's long-standing budget crisis–which was not caused by but has been exacerbated by the COVID-19 pandemic. Most recently, they agreed to $4.8 million in cuts, despite the classified staff line item being well within budget. This round of layoffs will deeply impact the remaining staff, who are already stretched too thin, and result in further cuts to vital campus services and support for students. It will also damage enrollment as students struggle to access services and an overwhelmed maintenance and custodial staff struggle to keep up with the needed cleaning, sanitation, and repairs of CCSF's crumbling infrastructure amidst an ongoing pandemic.
Classified staff are the backbone of the college. The workers that CCSF served with pink slips over the holidays are critical to maintaining quality services on campus for our students, including custodians, clerks, lab aides, library techs, student health staff, human resources, and more. Already, there are roughly half as many classified staff now as there were in 2000—from nearly 1,000 twenty years ago down to just over 500 now. This has resulted in people having to get much more done in an eight-hour day—an unsustainable workload that has pushed numerous employees to retire years before they had planned to. On top of the already untenable workload, some departments, including A&R, HR, and student health services, have been assigned new duties related to verifying vaccine records that are not in their negotiated job descriptions. Laying off more staff while adding still more duties to remaining staff is a recipe for failure—especially since the college plans to bring more in-person programming back to campus in the spring semester.
###
SEIU Local 1021 represents nearly 60,000 employees in local governments, non-profit agencies, health care programs, and schools throughout Northern California, including seven private colleges and numerous community colleges. SEIU Local 1021 is a diverse, member-driven organization with members who work to make our cities, schools, colleges, counties, and special districts safe and healthy places to live and raise our families.