Bargaining Update
RSVP for Union Coalition Meetings and Strike School!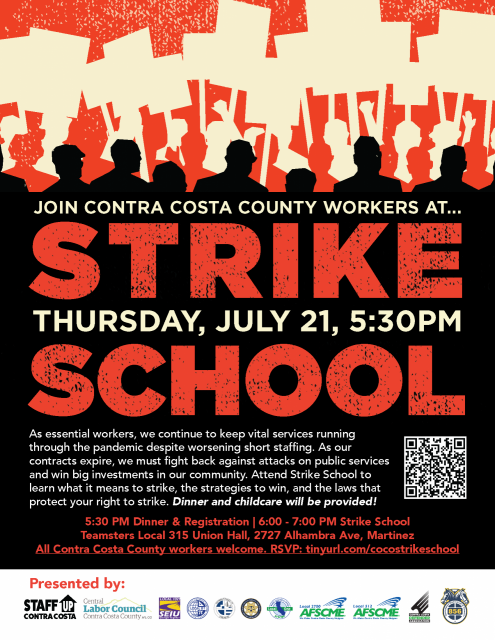 Our Union Coalition Bargaining Team (9 Unions representing 6,200 + County employees) met with the County management team the morning of Wednesday, July 6th. The Coalition made a counter proposal on a 4 year contract with a 4.5% COLA in the 4th year bringing the Coalition's General Wage Increase Proposal to 21.5% over 4 years (7-5-5-4.5). as well as other substantial changes to persuade the County team toward a fair agreement.
The Coalition significantly reduced our proposal to increase the employer subsidies across all Health Plans. We also modified our proposal on Dental Plan coverage changes.
We are going back to the bargaining table on Friday, July 15th. Our Coalition proposal is fair and affordable. See an updated comparison of proposals below with yellow highlights reflecting only new parts of the proposal: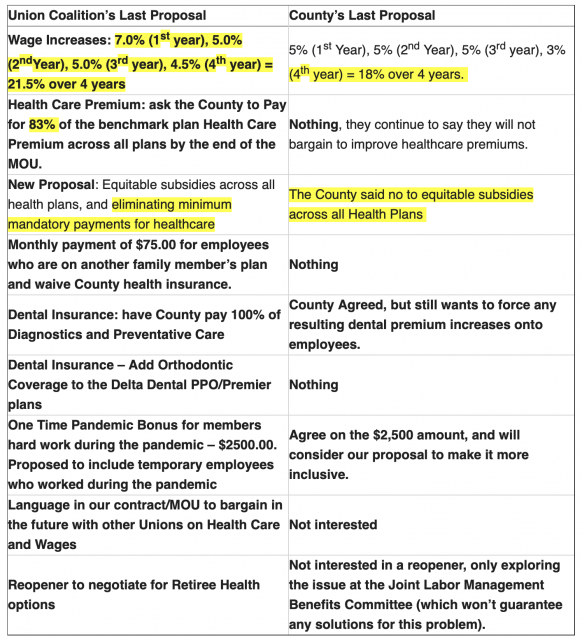 The County's contract offers aren't working for working people. Come to our coalition meetings to find out how you can get involved so we can get what we deserve.
Worksite Meetings

Agenda for all meetings:
Bargaining Update
Strike Readiness
Strike School
RSVP for the meeting that works for your
schedule: https://bit.ly/contracostamtgrsvp
July 12
Tuesday
Noon – 1 p.m.
1275 A Hall Ave., Richmond
4545 & 4549 Delta Fair, Antioch
---
July 13
Wednesday
Noon – 1 p.m.
1650 Cavallo, Antioch
151 Linus Pauling, Hercules
---
July 14
Thursday
Noon – 1 p.m.

300-500 Ellinwood, Pleasant Hill
RSVP for strike school on Thursday, July 21, at 5:30 p.m.:
tinyurl.com/cocostrikeschool
Union Coalition's Last Proposal
County's Last Proposal
Wage Increases:

7.0% (1

st

year), 5.0% (2

nd

Year), 5.0% (3

rd

year), 4.5% (4

th

year) = 21.5% over 4 years

5% (1st Year), 5% (2nd Year), 5% (3rd year), 3%

(4

th

year) = 18% over 4 years.

Health Care Premium: ask the County to Pay for

83%

of the benchmark plan Health Care Premium across all plans by the end of the MOU.
Nothing, they continue to say they will not bargain to improve healthcare premiums.
New Proposal: Equitable subsidies across all health plans, and

eliminating minimum mandatory payments for healthcare

The County said no to equitable subsidies across all Health Plans

Monthly payment of $75.00 for employees who are on another family member's plan and waive County health insurance.
Nothing
Dental Insurance: have County pay 100% of Diagnostics and Preventative Care
County Agreed, but still wants to force any resulting dental premium increases onto employees.
Dental Insurance – Add Orthodontic Coverage to the Delta Dental PPO/Premier plans
Nothing
One Time Pandemic Bonus for members hard work during the pandemic – $2500.00. Proposed to include temporary employees who worked during the pandemic
Agree on the $2,500 amount, and will consider our proposal to make it more inclusive.
Language in our contract/MOU to bargain in the future with other Unions on Health Care and Wages
Not interested
Reopener to negotiate for Retiree Health options
Not interested in a reopener, only exploring the issue at the Joint Labor Management Benefits Committee (which won't guarantee any solutions for this problem).