Asian Health Services Healthcare Workers Rally to Demand Management Confront Dangerous Staffing Crisis
Short staffing is undermining critical health services and endangering vulnerable patients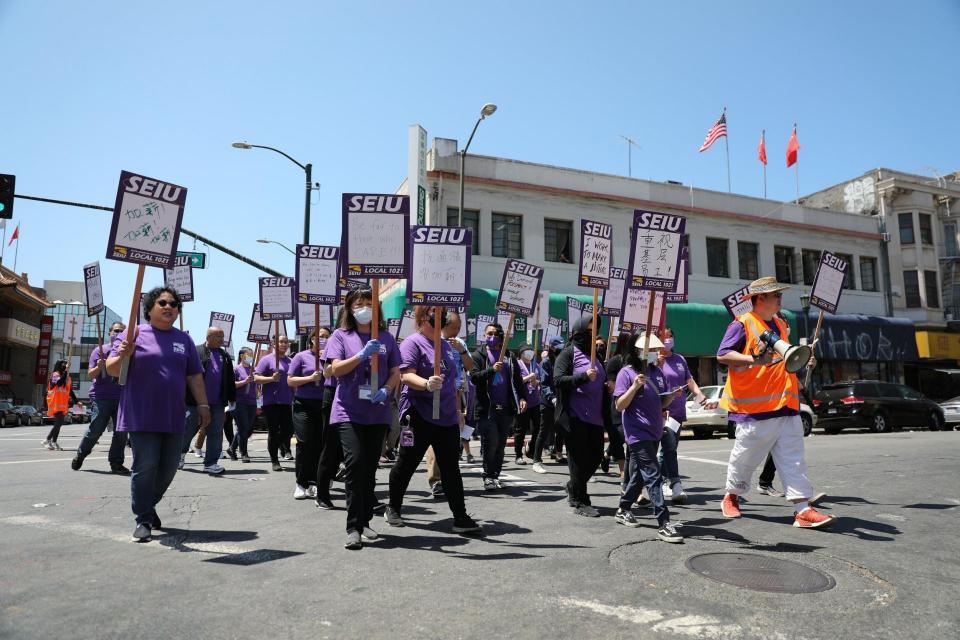 **FOR IMMEDIATE RELEASE**
Contacts: Chelsea Fink, chelsea.fink@seiu1021.org, (510) 435-8282, Mike Richardson, mike.richardson@seiu1021.org, (510) 517-6636
OAKLAND – Asian Health Services is experiencing a dangerous staffing crisis that leaves vulnerable patients with extremely long wait times and declining levels of care. The pay for AHS healthcare workers has not kept pace with inflation and is lower than other clinics in the area, causing many employees to leave the clinic to find more sustainable employment elsewhere. The remaining employees struggle to keep up with their ever-growing workload while ensuring patients receive the care they deserve — but they need support.
Monday, July 17, Asian Health Services workers will rally to demand management take immediate action to staunch the bleeding.
What: Rally to demand better services for patients and better working conditions for AHS staff
When: Mon., July 17, at 12:00 PM
Where: 818 Webster Street, Oakland, CA
Who: Asian Health Services Healthcare Workers
Visuals: Healthcare workers picketing
"We want to help our patients to the best of our ability, but it's difficult to keep our batteries charged if they're always being drained because there's just not enough staffing," said Vicky Tan, a medical assistant at Asian Health Services.
Vulnerable members of the Asian community, immigrants, refugees, low-income, and other underserved residents of Alameda County rely on the vital health services provided by Asian Health Services. But these services are failing due to important programs, including dental, membership, and the referral department, all being extremely short-staffed. Because of this, patients are experiencing up to 6-month waitlists for appointments, with some waitlists of up to 500 people long and patients reporting waiting up to a week just for a referral.
Meanwhile, staff cannot take sick or vacation time because there aren't enough workers to meet the critical needs of their patients in their absence. So they work when they should be resting, which puts themselves, their coworkers, and their patients in danger.
"I chose to work at Asian Health Services because I want to serve my community. But as a triage nurse, I am basically doing two people's jobs. That can eventually lead to burnout or staff finding other jobs." Tammy Vien, a registered nurse at Asian Health Services.
Asian Health Services workers have been at the bargaining table with management since January, but minimal progress has been made due to management stalling and ignoring workers' solutions for recruiting and retaining more staff to resolve these alarming and ongoing issues.
###
SEIU Local 1021 represents nearly 60,000 employees in local governments, non-profit agencies, health care programs, and schools throughout Northern California, including seven private colleges and numerous community colleges. SEIU Local 1021 is a diverse, member-driven organization with members who work to make our cities, schools, colleges, counties, and special districts safe and healthy places to live and raise our families.