Andrea Grimes, Librarian's Guild Chapter President, shares how library staff are going the extra mile for our community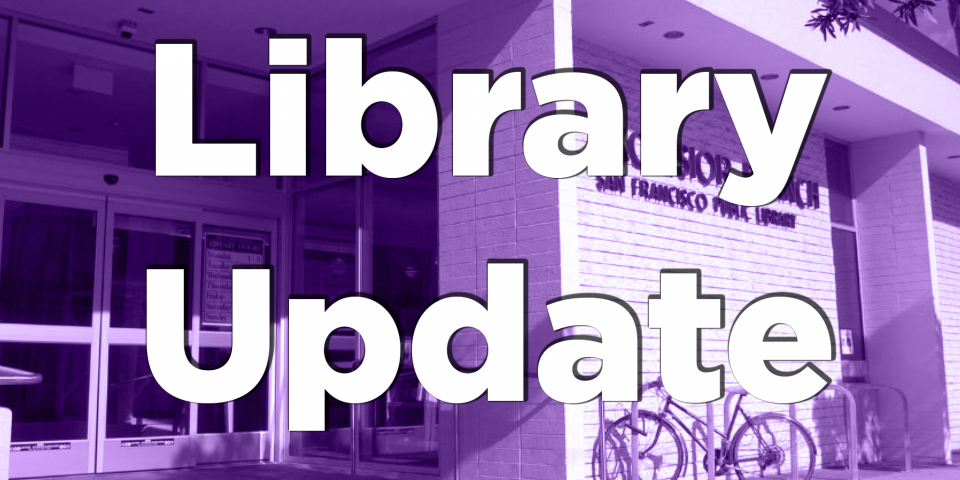 "Whoever said library workers are meek, quiet and shushing, should reset their mindset. The pandemic has demonstrated how library workers in San Francisco work together to empower our community and ourselves; we are stronger together!
From the moment the City put out the call to shelter in place, San Francisco's library workers stepped up together to aid in the fight against the coronavirus. From day one, Library Chapter officers kept the lines of communication open with our members and Library Management, urging transparency and up-to-date information from Management. On April 6, 2020, sixty-four library workers volunteered to help feed the people, working in partnership with the San Francisco/Marin Food Bank.
That's not all—our members worked as Disaster Service Workers everywhere in the City: from the food banks to COVID hotels and testing sites; working in the field to paper the City with current health news, working with the CCC to catalog and document information for the Department of Public Health; acting as translators; working as contact tracers and case investigators; registering members of the community at testing and vaccination sites. Learning hubs were installed at nine library branches for children who have been unable to attend school in-person.
While the emergency work has continued, San Francisco's library workers are determined to reopen our beloved public libraries as safely and smartly as possible. In August 2020, the first San Francisco Public Library To Go curbside service opened for business at the Main Library and Excelsior Branch. By March 2021, twelve libraries are open for curbside service, with three bookmobiles cruising needy neighborhoods. More branches are set to open soon.
Working behind the scenes, librarians manned the telephone information line and kept the patron/librarian conversation going with continued reference service and research by phone, chat, and email.
A collaborative partnership with Library Management has instilled a souped-up can-do attitude toward our safe reopening. As of this writing, the Labor/Management team has just concluded another successful monthly meeting, and our Reopening Committee has drafted a set of proposals that will help define the next several months of public service for our community. All of this while ensuring the health and safety of our members, and by advocating for vaccinations for all.
Our lives have been challenging in the fight against this virus; we have worked hard to keep our community and co-workers safe; the remarkable support of our Union has sustained and empowered us, and we are determined to continue our work as an essential public institution in the 'City that knows how.'"