Amplifying worker voices in politics: Alameda County COPE Forum
Sunday, March 20, 2022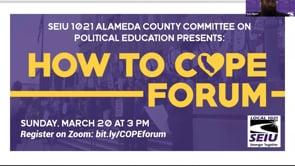 On Sunday, March 20, from 3 p.m to 4 p.m., Alameda County's Committee on Political Education (COPE) hosted a Zoom forum to talk about how and why they amplify worker voices in the political arena. Click the video above to watch a recording of the forum!
Presenters included:
Soli Alpert, Berkeley Legislative Aide
Carol Draizen, Alameda County Retiree
Andrea Mullarkey, Teen Librarian, Berkeley Public Library
Donneva Reid, Principal Account Clerk and Oakland Unified School District Chapter Vice President
Olivia Rocha, BART Computer Support Coordinator and BART Professional Chapter President
Felix Thomson, Nurse Case Manager, Highland Hospital, Alameda Health System
Rachel Ugale, Admin Systems Analyst, Chabot Las Positas Community College District
Alameda County COPE meets every last Monday of the month, and will be meeting next on Monday, July 25, at 6 p.m. Click here to join by Zoom. Meeting ID: 865 6959 1202 Passcode: 488385.